The clocks have gone back, it's colder and darker. However, in the words of the lesser known Brontë sister, Anne in her novel The Tenant of Wildfell Hall "There is always a 'but' in this imperfect world." Things may be gradually getting more wintery 'but' at least we can keep warm and add some brightness to these darker evenings with pieces like this Georgia in Dublin Brontë jacket (did you like our tenuous link?)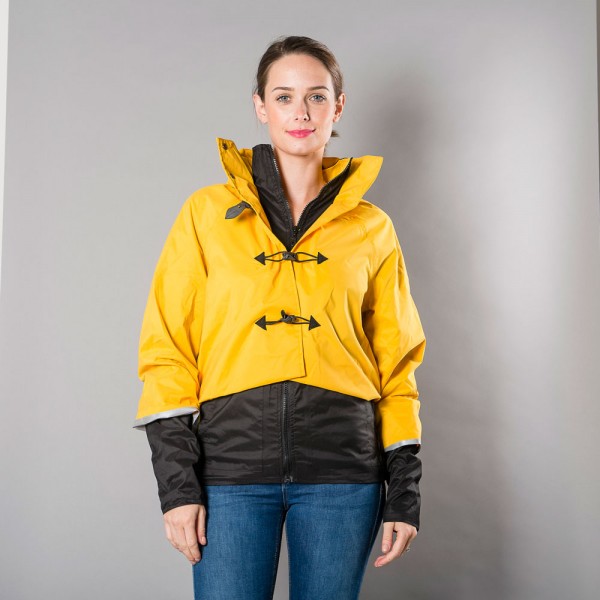 Georgia in Dublin Bronte Ladies Cycling Jacket £130. Also available in other colours.
We knew we had to stock this jacket as soon as we tried it on because not only is it comfortable and versatile, it's so flattering as it nips in at the waist thanks to the pleats at the back that also feature reflective detailing. The cuffs and waist are elasticated so it doesn't ride up or let cold air in. The integrated hood makes it a great jacket for rainy day walks as well.
Georgia in Dublin is run by mother and daughter Nickie and Georgia who started their company in 2009 as a response to what they felt was a lack of functional but elegant cycling wear for women.
The products are all designed and the prototypes made by Georgia and Nickie in Dublin. The family-run independent company place a huge importance on the the value of community. The soles of the Leggits and jacket fasteners are made from recycled inner tubes which are collected from local bike shops in Dublin.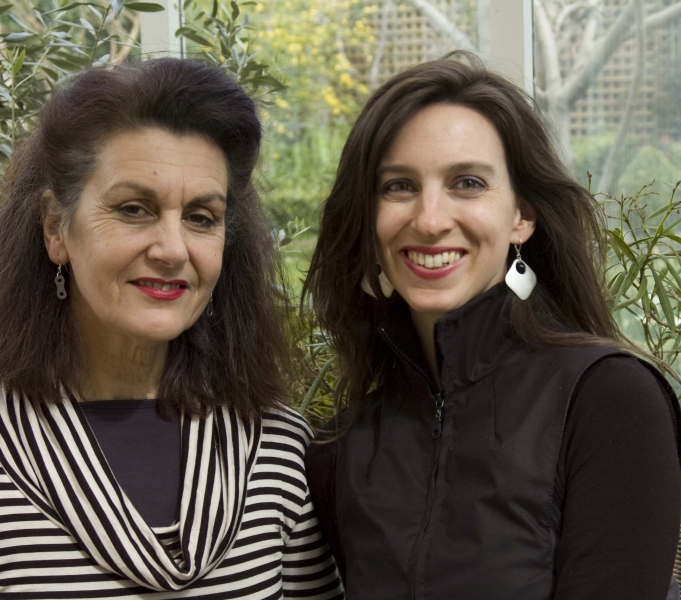 We had a cup of tea with Georgia and Nickie and asked them a few questions.
Cyclechic: What kind of cyclists are you?
Georgia: I am mostly an urban cyclist, cycling to work, to meet friends and to deliver orders to the shops that stock us locally. I also enjoy taking my road bike out on the country roads of Wicklow on the weekends.
Nickie:  I am an urban cyclist too but not so keen on recreational biking – strictly an A to B girl!
Cyclechic: Have you always been into cycling?
Georgia: Yes. My Dad used to wrap a thick wool blanked around his cross bar and take us about on his bike and then when I got my own bike he would accompany me to primary school on it. I cycled to secondary school and university and though I took a little bit of time out in my early 20s, choosing the lazy option of the bus, it wasn't long before I was back on my bike as the bus was always really late and when it finally arrived there were another two of them in tow. I have cycled religiously ever since and haven't looked back! 
Nickie:  I have always been on a bike: fond memories of falling out of the child seat whenever my mother's string bag full of shopping got caught in the spokes! When Georgia was little I had a  pre-war Rudge Whitworth high nellie which I adored. Unsurprisingly it was nicked when left unsecured in the garden: silly me!
Cyclechic: What do you think about cycle street style at the moment? 
Georgia: It is a joy to see people not feeling obliged to sacrifice their own style in order to ride a bike in an urban setting.  
Quick Q&A:
What bike/s do you ride? 
Bear Bikes (Dutch)
Where is your favourite place to cycle? 
Out along the coast
Dream place to ride? 
Slovenia..it's supposed to be a beautiful place to cycle
Basket, backpack or pannier? 
Crate!
What was your first bike? 
Georgia: A Raleigh Crocodile 
Nickie: A trike
Describe your cycle style: 
GinD 😉
Who is your cycling icon? 
Women in the 19th century who got on their bikes and in long skirts too!
View more stylish Georgia in Dublin gear here.