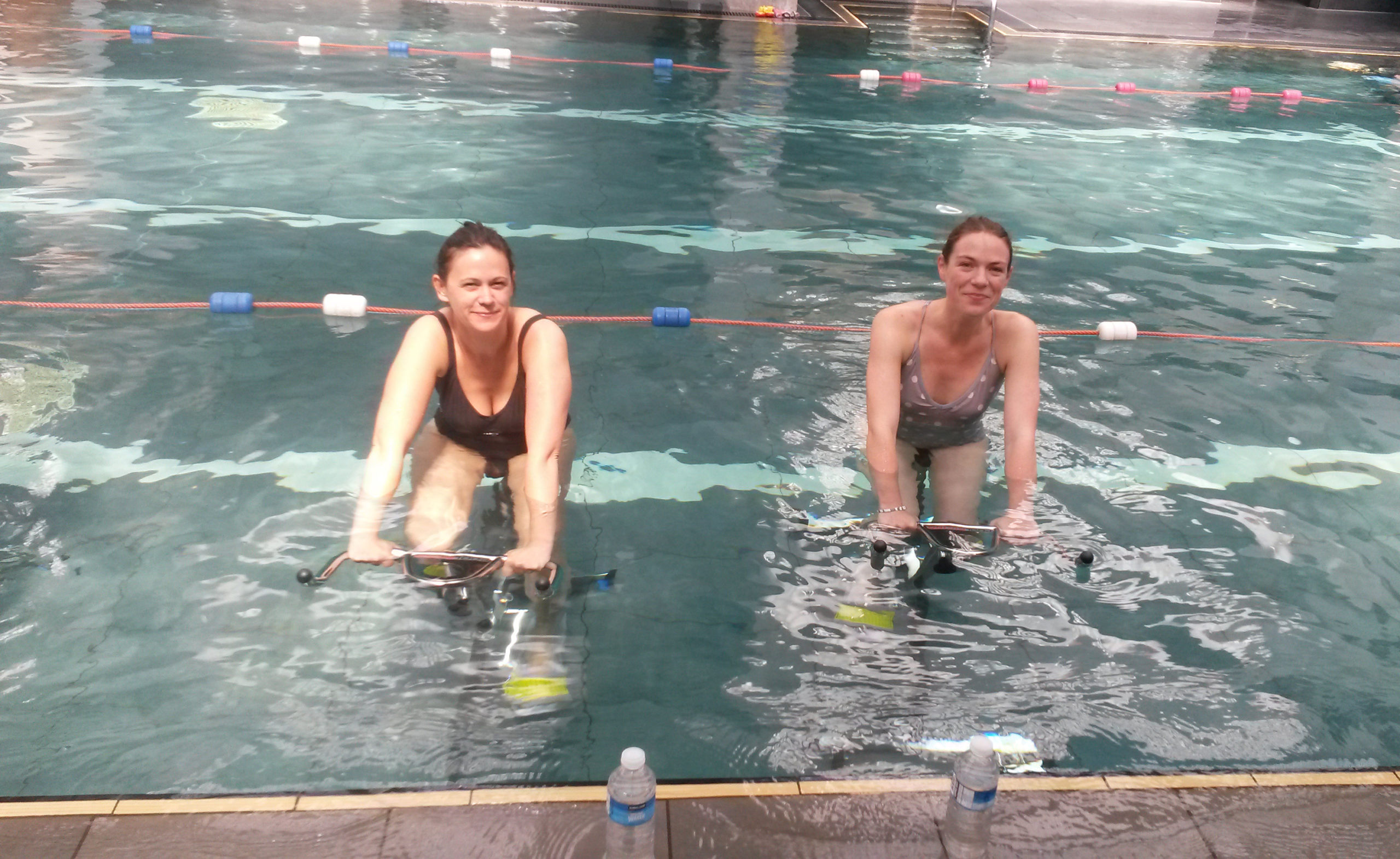 I am not a huge fan of exercise classes. I find prancing about doing exercise for the sake of exercise a little dull. But my interest was piqued when I was offered the chance to try out the new fitness craze that has been pedalling its way across the channel from France, aqua-cycling.
Cycling and swimming are the two forms of exercise I actually enjoy and find time to do and a combination of the two sounded intriguing, so on a sunny Friday lunchtime Lavinia and I popped along to the Dolphin Fitness Centre in Pimlico to try out a class from the experts at AquAllure. 
We changed into our cossies and padded out to poolside where a cheery instructor, Hugo Pinto, fitted us on to what looked like a regular exercise bike. These clever pool biking contraptions are then wheeled into the water and off you go.
After the initial novelty of being on a bike in a swimming pool had worn off, I began to wonder whether this would keep me entertained for a 45 minutes class, but I have to say it did.
Once the class was saddled up, Hugo put some pumping tunes on and took us through a varied routine of pedalling fast, slow, bum on saddle, bum off, hand in the water, hand out – all very fun and exhilarating.
The benefits of aqua-cycling are that you can burn calories (800 an hour, apparently!) and tone muscles without much impact on muscles and joints as the water cushions your movement. Aqua-cycling was actually first used as a way for athletes to train and keep fit whilst injured. It also helps tackle cellulite and improve skin tone, as well as enhancing your cardio endurance and boosting your breathing capacity. Read all about the Benefits on AquAllure's website.
I particularly liked the variation of the class. There were high-intensity sprints where you could get nicely out of breath, so you felt like you have really done a workout, and then slower periods to get your breath back and cool down. It also feels great being in the water; when you get hot you can just dunk yourself under and you're fully refreshed.
There's a difficulty rating to some of the moves which provides a satisfying challenge – at one point you stand behind the bike, hold onto the saddle and do all manner of kicks and jumps. I loved this bit and am eager to try it again to improve my skills.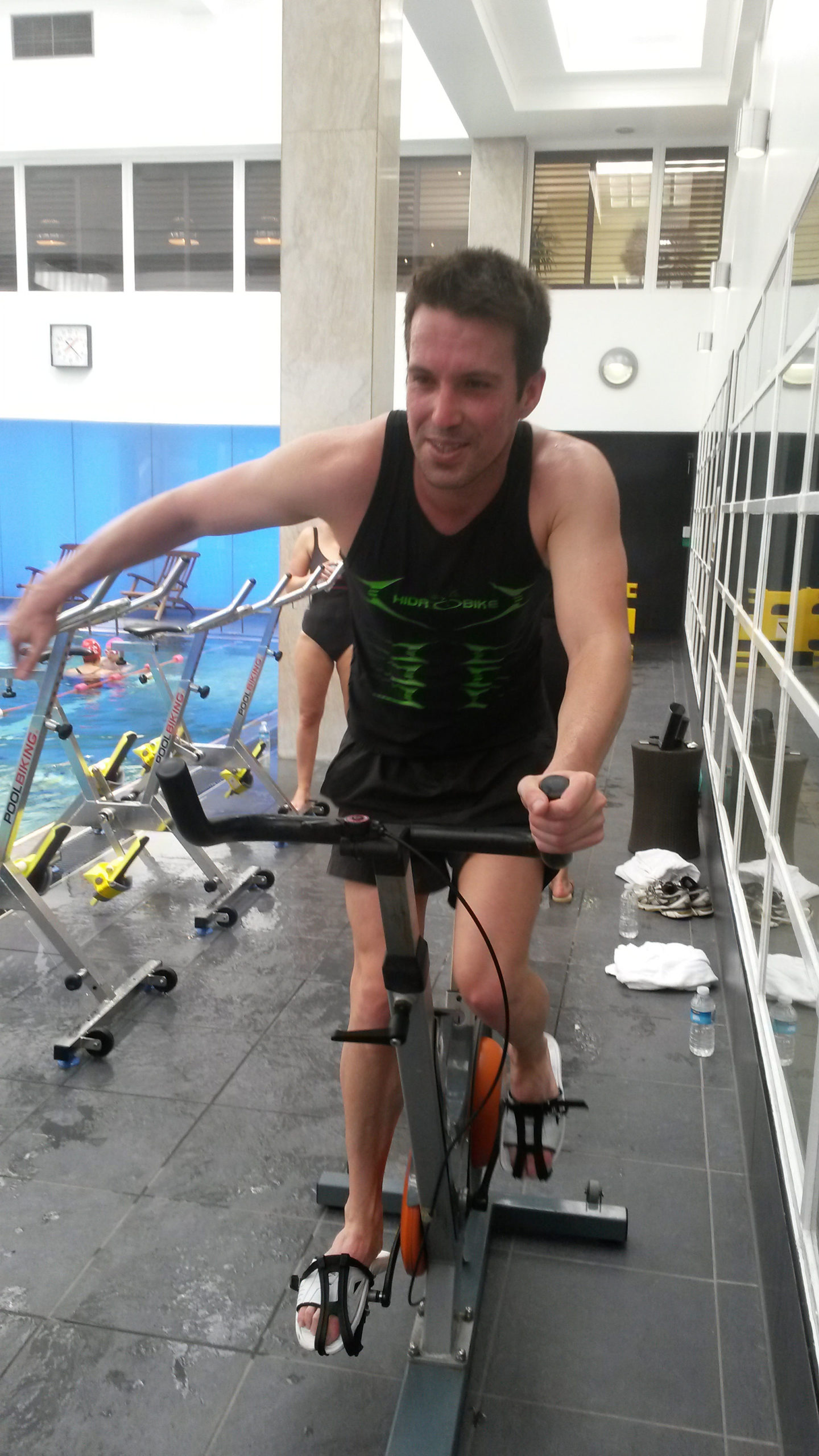 The instructor was great and obviously super-fit as he did the whole routine on his bike from the poolside whilst telling us what to do. He did a great job of keeping the momentum going and correcting us if he could see we were in the wrong position.
One criticism was that we should have been spaced out a little better. There were a lot of wide arm movements which I felt I had to restrict for fear of bashing my neighbour and once the class had started it felt awkward to get off the bike and move it around. (since first writing this review the team have told me they are changing the routines to ensure there is enough space)
But, all in all, I really enjoyed my aqua-cycling class and would recommend it as a refreshing, exhilarating exercise class that doesn't leave you with any stiffness or soreness the next day.
Where: The Dolphin Fitness Centre, Pimlico, London (AquAllure are hoping to roll out classes at more locations later in the year)
When: Check out the timetable
How long: 45 mins
How much: £20 per class
Website: Aquallure.co.uk