Have you got the cycling bug this spring? If so here's two rides to get involved in this month in our very own London town. Not only do they both promise to be fun but you will be making a difference by taking part.
First up is the London Cycling Campaigns 'Space for Cycling' Big Ride on Sat 17th May. We are truly lucky to have such a dynamic and inclusive organisation campaigning for cyclists here in our capital. In 2012, The Big Ride for the 'Love London' Go Dutch' campaign pulled in 10,000 riders and was hugely successful in influencing Boris to make solid commitments to cycling in the run up to the Mayoral election. This year is set to be another great event 'a fun ride with a serious message, telling politicians we want streets that are safe and inviting for everyone to cycle'.
The Space for cycling campaign is a way for anyone and everyone to get involved in decisions and improvements to the cycling facilities and infrastructure in their local area. Enter your postcode on the Space for cycling website and it will tell you about issues and campaigns on your very doorstep and you can then email your support/views through the online tool. I think its a pretty fantastic campaign enabling people to get involved in issues that matter to them. 
When: Sat 17th May at 11am
Where: Meeting point is Park Lane (roads are closed to traffic, yay!)
The Route: Enjoy riding through famous London locations such as Hyde Park Corner, Parliament Square, Piccadilly Circus and Trafalgar Square in a motor-traffic-free environment that's suitable for the whole family (see the route below).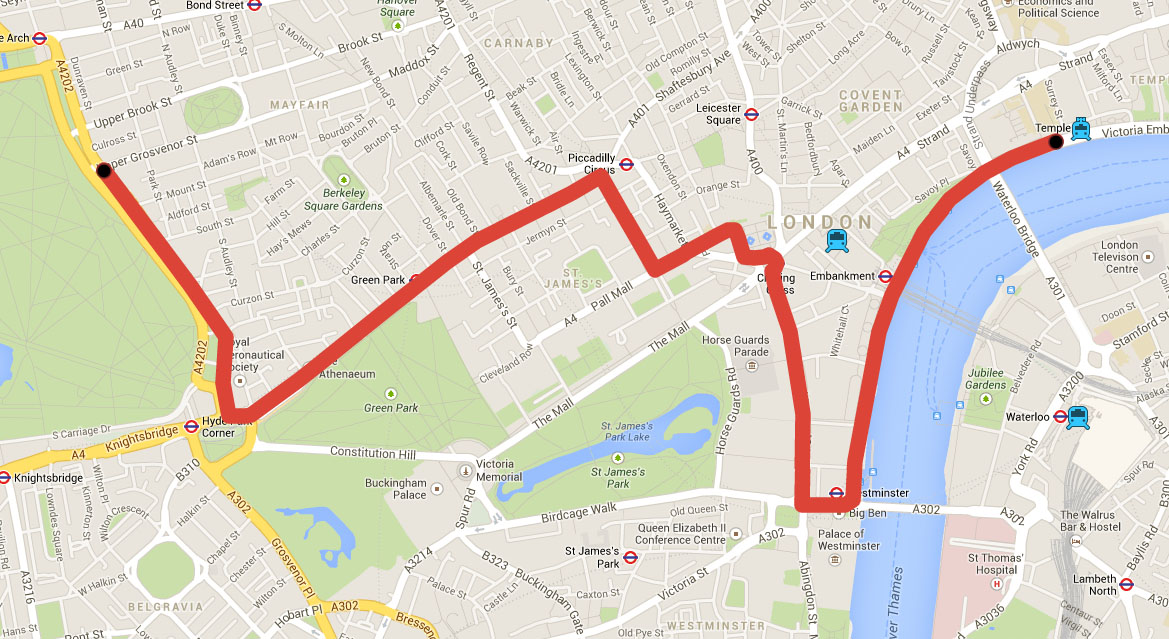 Why: Because it will be fun and it's a chance to show your support and commitment to London's Cycling community… and there will be no cars. There will also be a rally and guest speakers at the end. 
Preparation needed: Non really, just check your bike is in order, take a drink and a snack and check where your nearest guided ride is to the starting point. Oh and maybe look at your route home to, the ride finishes on the embankment. And on a fun note LCC are encouraging people to dress up in bright clothes and bring flags to create a carnival atmosphere. 
Do I need to pay? The ride is free but it does cost the LCC money to organise to please make a donation if you can. 
Second in the diary is UNICEF's Wheels for Change. The ride takes place on Sat 24th May at various places around the country starting and finishing at the Barclays premier league football grounds. Registration for most rides has now closed BUT is still open for the two in London until Sun 18th May so get in there quick.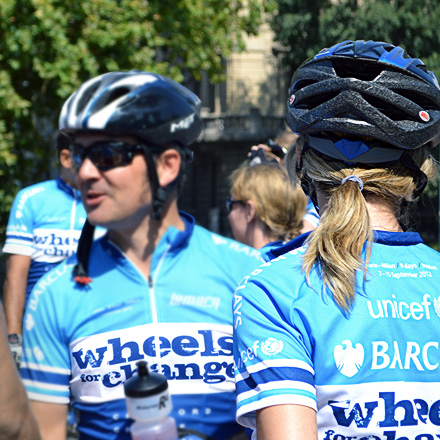 UNICEF mission is to help young, disadvantages people all over the world, giving them real opportunities to have a better life. Read more about the causes and work they do here. It's pretty inspirational!
The Wheels for Change events will be a great challenge if you want to take your cycling to the next level and I'm sure there will be an amazing atmosphere amongst the riders. 
When: Sat 24th May
Where: The two London rides are at Crystal Palace FC and Fulham FC.
The Route: Both routes are 100km so not for complete beginners but if you are looking for challenge could be ideal. Look at the specifics routes for Crystal Palace and Fulham FC. They are both circular and take in some wonderful countryside.
Why? Wheels for Change is the cycling challenge that will help to turn young lives around. The money you raise will go to UNICEF. With your help, UNICEF will focus the funds on transforming the futures of disadvantaged young people around the world, helping them to turn their business dreams into reality.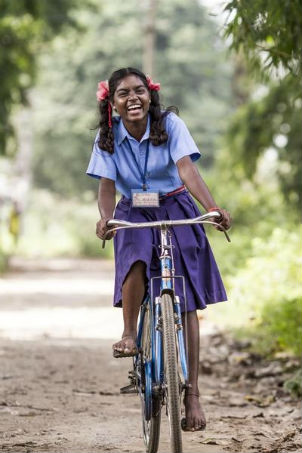 Preparation needed: You will need to be reasonably fit and have done similar distances before. You should also take plenty of water, snacks and energy bars and padded shorts might not go a miss.
Do I need to pay? You pay £40 registration and you encouraged to raise as much as possible for UNICEF, here's some advice on how to get your fundraising going.
If you want more advice on getting involved in rides and events, preparing for longer rides and cycling for fitness take a look at my book, The Girls Bicycle Handbook. You can by it from cyclechic.co.uk or on Amazon. 
There's heaps of info and advice; from what to eat before a long ride, to yoga stetches to do after. I hope you find it useful! Enjoy your spring rides whereever they take you!