We are super excited and privileged to welcome Maria Bousted, Founder of Po Campo Bags to our She's Electric Campaign! Maria and I met over 10 years ago when we were both starting out with our businesses and I've been a big fan of hers and Po Campo ever since. Maria is a cycling advocate, a talented business woman and designer and share our passion for helping more women get cycling. Now an e-bike convert welcome her to the She's Electric campaign.
Tell us a bit about yourself?
I'm the Founder and CEO of Po Campo and we make bags that help you carry what you need on and off your bike with style and ease. I started the company when I couldn't find a bag versatile enough to use on my bike commutes and then carry with me throughout the day. As an industrial designer, I knew I could create a better bag for me and all the people like me who were looking for gear to help them integrate biking into their daily lives. I currently live in New York City where I ride almost daily for transportation and for leisure.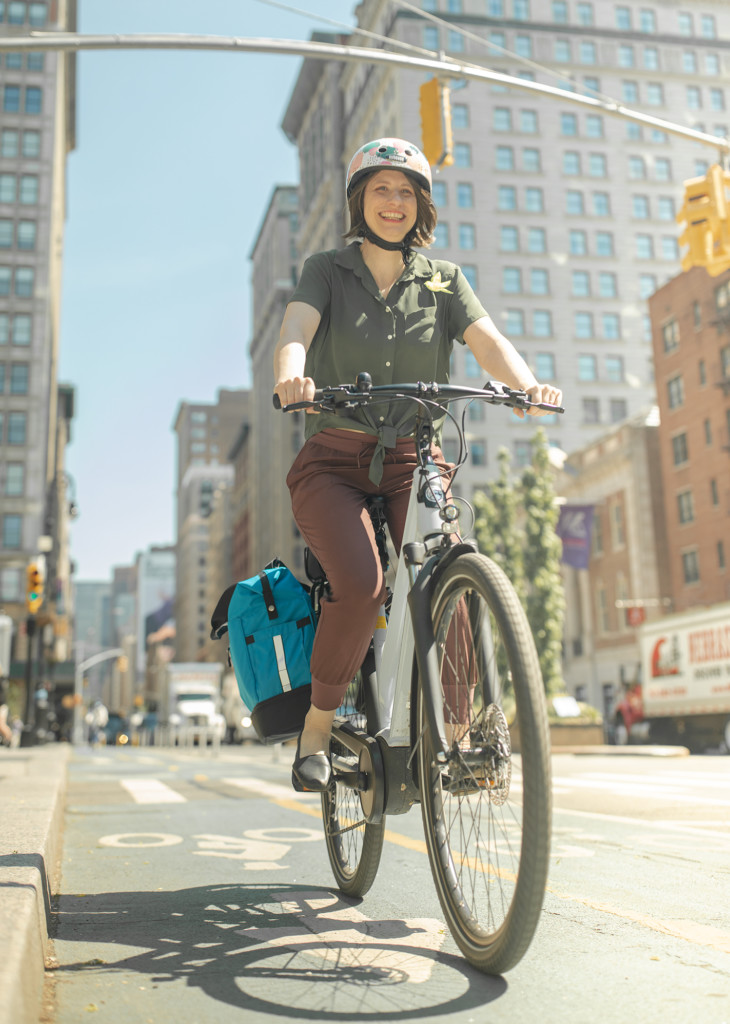 What e-bike do you ride?
I ride a Gazelle Medeo T9
How did you get started on an e-bike and what was the experience like?
I bought my e-bike in mid 2020. We had moved from Brooklyn to Upper Manhattan, about 16 miles away, right before the pandemic. I didn't feel comfortable with taking the subway to my studio and biking roundtrip was so long and tiring, with a big hill on either end. I decided I was ready to get an e-bike to use instead. A friend, Arleigh Greenwald a.k.a. @bikeshopgirlcom, once told me that Bosch mid-drive motors were the best and I trust her expertise so that was what I was looking for. To be honest, I felt pretty overwhelmed with the options and all the technical criteria to consider. I ended up going to a local bike shop, Propel in Brooklyn, because they offered a matchmaker service. They recommended the Gazelle Medeo T9 so I bought it.

How does your e-bike benefit your life
My e-bike makes me feel limitless. I have always considered myself an avid city cyclist but now I really do ride everywhere! I hadn't appreciated how many little hurdles kept me from riding, especially after moving to a much hillier part of the city. My e-bike erases pretty much all of them – weight, wind, distance, topography. Plus, it is so fun to ride that I don't mind long rides at all. If anything, I savor them!
What's a typical trip/ride for you on your e-bike?
My work commute is pretty short now after moving my studio closer to home. But several times a week I'll ride my bike downtown along the Hudson River or through Central Park and it is such a nice way to get out, move my body, and enjoy being in NYC.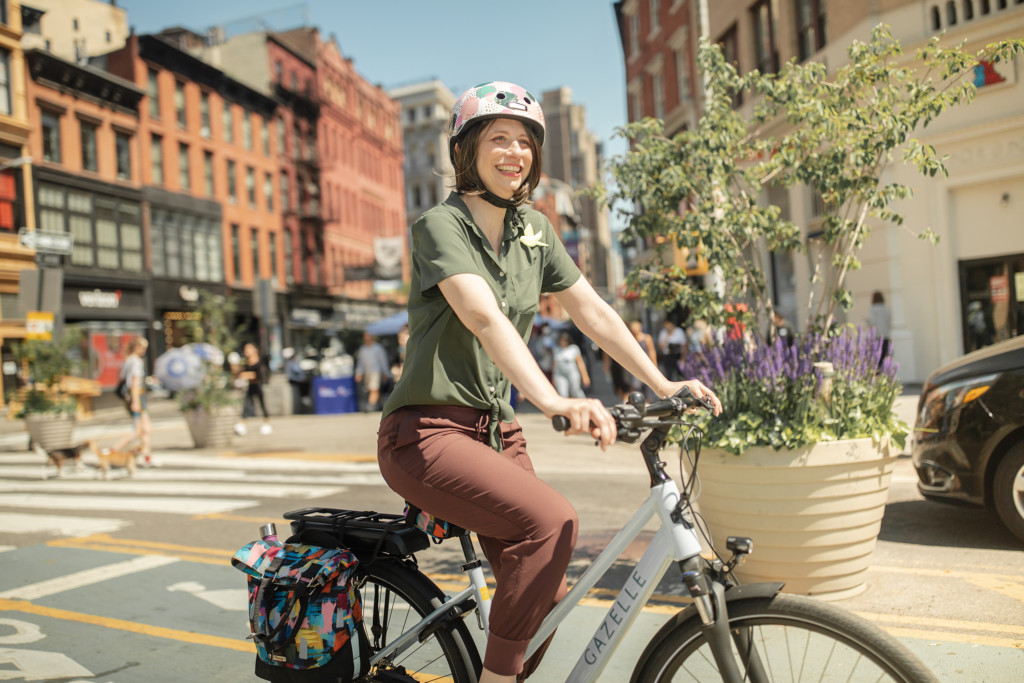 What's your favourite accessory that helps you ride your e-bike with style?
Unsurprisingly, my Po Campo bike bags are my favorite bike accessory! Not worrying aboutweight with an e-bike makes it a much better car replacement because you can really load it up. Po Campo now has bigger grocery panniers and trunk bags that help me carry what I need on and off my bike with style and ease.

What's one thing you would say to inspire more women to ride an electric bike?
Get ready for every little trip to be a little bit better.