Why I think the Tern Quick Haul is a work of art.
Having spent the last 15 years seeking out products that work for the female urban cycle market, this bike feels like the golden ticket: a bike that truly speaks women, with ease and everyday mobility at its core. And it looks great too!
Whilst we don't ordinarily sell bikes, we have made an exception with the Quick Haul, and if you like what you see, you can order order one from us. Tern Quick Haul P9 in Olive Green and The Tern Quick Haul P9 in Merlot or get in touch to book a test-ride sales@cyclechic.co.uk
How does it look?
The slightly smaller size than the Tern GSD (and the slightly smaller price tag) has immediate appeal. I instantly knew I could fit this bike into my life, and I would be proud to be riding it. It's stylish without feeling flashy. A vehicle not a toy. The wheels are smaller than a regular bike at 20 inches. The frame sits lower, and it has a much less masculine feel than other electric cargo bikes on the market. And did I mention the colours? Just the right shade of earthy olive green, and it also comes in similarly tasteful merlot.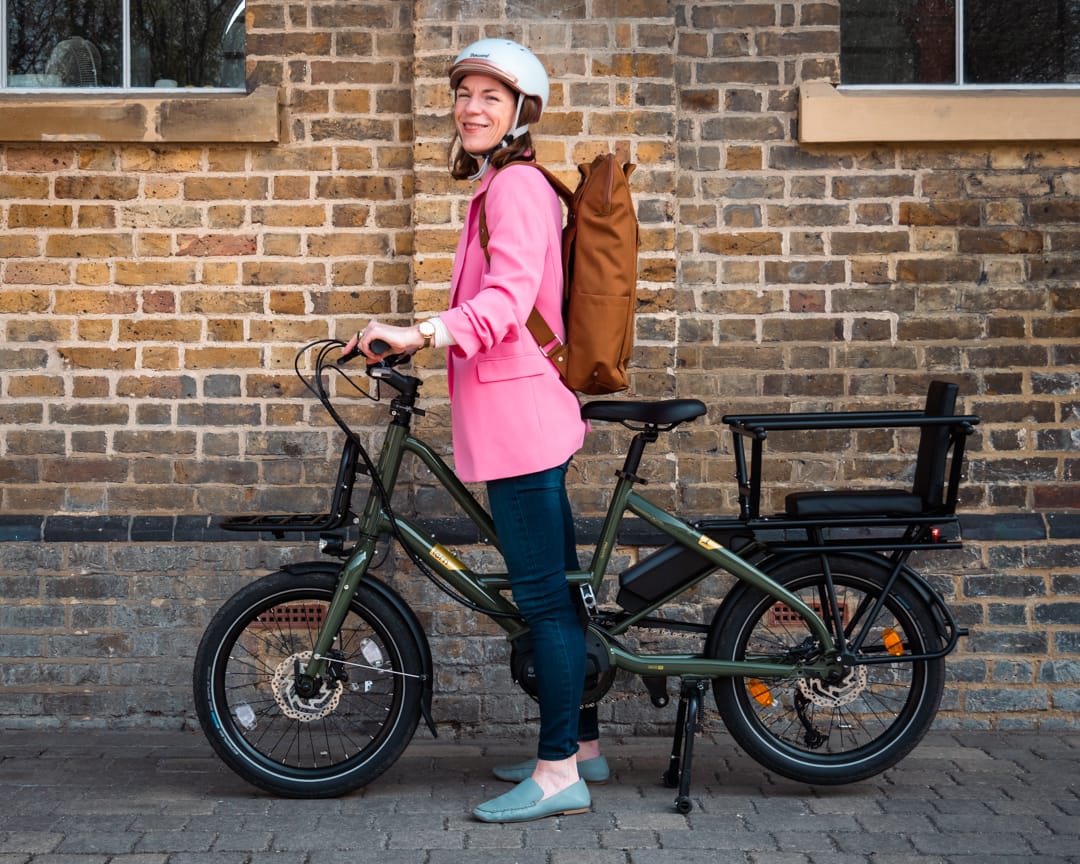 Bright idea
The Tern Quick Haul P9 has built-in lights that come alive when you switch the e-system on. This is a game-changer for ease of cycling at nighttime as you never have to worry about whether you've got your lights with you and whether they still work or need charging.
How does it feel to ride?
This is where Tern bikes really set themselves apart from other bikes and e-bikes on the market, and the Quick Haul is no exception. They have a low centre of gravity, so the minute you get on, you feel safe and secure ans they are just so easy to ride!
I think this is why women often love them, especially women with kids. I tested my theory out on a friend recently. I lined two brands of long-tail e-cargo bikes up for her to try: a Quick Haul versus a bike with full-size wheels and the geometry and riding position of a regular bike.
My friend, Alice, cycles but had not done so with her nine-year-old son on board before and had only tried an e-bike once. She tried the other bike first, and I could see her struggle with the weight distribution and wobble, then struggle to get her feet down to a safe position.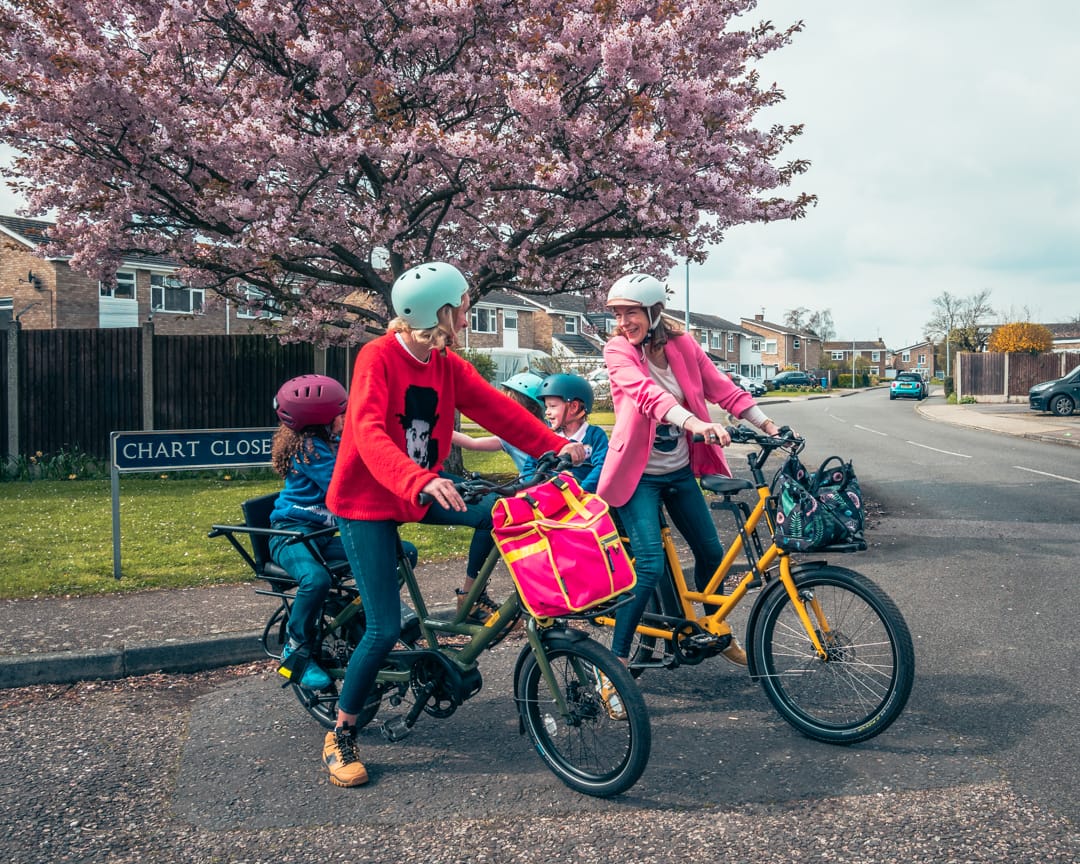 While e-bikes with full-size wheels can feel great when you are riding, they can be tricky when stopping and starting because of the weight of the kids on the back.
Then she tried the Quick Haul and the relief on her face was palpable. 'This is so much easier to ride,' she exclaimed. 'Can I stick with the little bike?'
I have also spoken to women who have been completely new to cycling, or very novice, and the Tern brand has enabled them to ride with confidence in a way they never imagined. See our She's Electric Role Model, Ruth Slatter.
The all-important motor. How it works, and how does it feel?
The Tern Quick Haul's Bosch e-bike system consists of a motor, battery and display. There are two motor options, depending on the model, Performance Line or Active Line Plus. The system works when you switch on the display screen that sits on the handlebars and select which mode you need from 'eco' to 'turbo'. It a pedelec system, which means it only provides the e-assist when you pedal.
What strikes me about the Bosch system over others is it's much smoother with no alarming jumps or jolts in speed and no strange dragging feeling as you move down modes. This all adds to the feeling of safety when you ride. For a very thorough rundown of all the Quick Haul's features, watch this very useful video here.
You can adjust the handlebars and the seat post easily, so one size fits all, and you can share the bike with a partner – if you are feeling kind.
How is it at transporting kids and stuff?
The Tern Quick Haul can carry up to 50kg on the back (approx. 7.9 stone). But you can only carry 1 child, so if you need to carry 2 look at the GSD.
Seating-wise, I opted for the Clubhouse Mini for my five-year-old daughter. This is a padded seat that attaches onto the rear rack. It has rails that run all the way around for your child to hold onto. We went for the stirrup foot holder. My daughter really liked this set up and felt much more independent than in a regular child seat.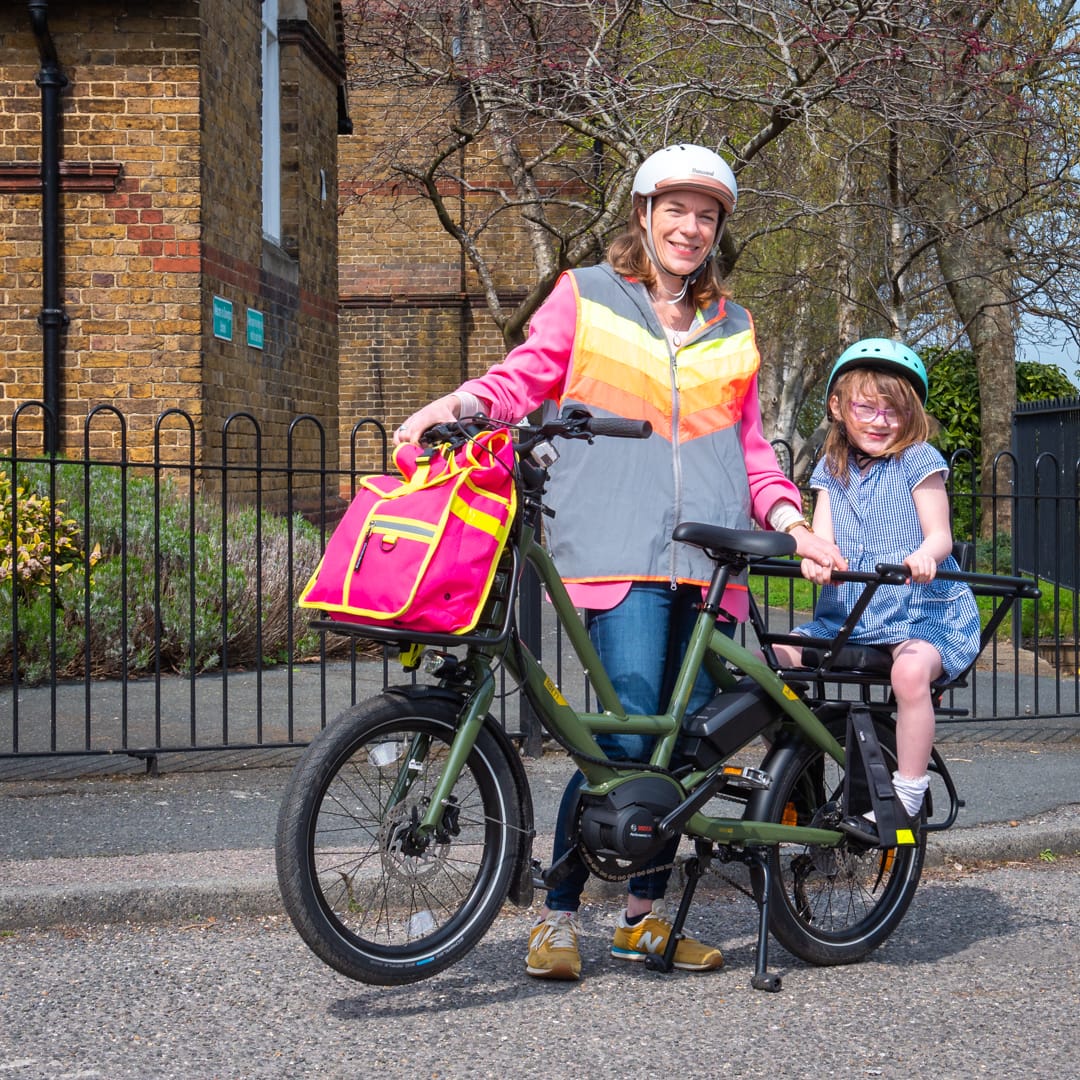 For younger children, aged nine months to five years, you can attach a Yepp seat and then transition to the clubhouse as they get older. See Tern Passenger Set-up Guide here. The Yepp seats fit on really easily, no tools needed and because the rack sits lower than on a regular size bikes its much easier to get younger children on and off the seat.
How is it on hills?
We tested this out on the very steep hill that we do every day on the school run. The Quick Haul passed the test when set to Turbo. I noticed it wasn't quite as powerful as the GSD, but it gave us plenty of welly to get up without breaking a sweat. Have a look at our Youtube review and you'll see us whizzing up our school run hill!
How does it charge?
It's beautifully simple to charge. Just connect the charger to the battery. It can stay in the frame, or you can remove it and bring it inside to charge if that's easier. I left it to charge overnight and found I had plenty of range for a few weeks of short, local trips.
How easy is it to park and store?
Again, a huge bonus of this bike is the ease of parking and storage. As women, we trip-chain more than men. Meaning we do more journeys that involve stop-offs, and to make this manageable on an e-bike, it has to be easy to park and lock. The Tern Quick Haul's smaller size and shorter and lower frame meant I could lock it to any bike stand quickly and easily. And I didn't feel too worried about leaving it as its doesn't look as expensive as some other e-bikes I've reviewed.
It was also very easy to store at home. It can be flipped up horizontally if your storage space is limited.
How much is it? I
Its £3100, more affordable than other models but we realise paying £3K upfront is not always possible, that's why we've teamed up with the Green Commute Initiative, so you can pay it off gradually through your salary and save up to 40% of the cost through tax savings! call us for more info on how this works 07908 631 050.
You will also get your moneys-worth with this bike as its great when kids are small but has a life way beyond ferrying your children around. Its great for commuting, shopping and you can even get a special add on to carry your beloved pooch.
Verdict
If the Department for Transport is really serious about making all local trips walked or cycled by 2050, instead of cutting funding, I would suggest they invest in a large fleet of Quick Hauls. Rent them out to individuals, along with providing road safety training sessions, and I'm pretty sure they'd get some strong conversion numbers from car to e-bike, and probably more women than men. A bike that could address the gender gap in cycling? It's a strong contender and gets five stars and a thumbs up from me.