The third Role Model in our She's Electric campaign is Ruth Slatter. Her story couldn't be more inspiring as she shares her incredible journey from a nervous starter to a cycling champion! Ruth never thought she'd be able to regularly use a bike to get around London. However, when her little boy was born Ruth was determined to face her fears. She joined a local parent and child cycling group, purchasing her Tern HSD and the rest is history!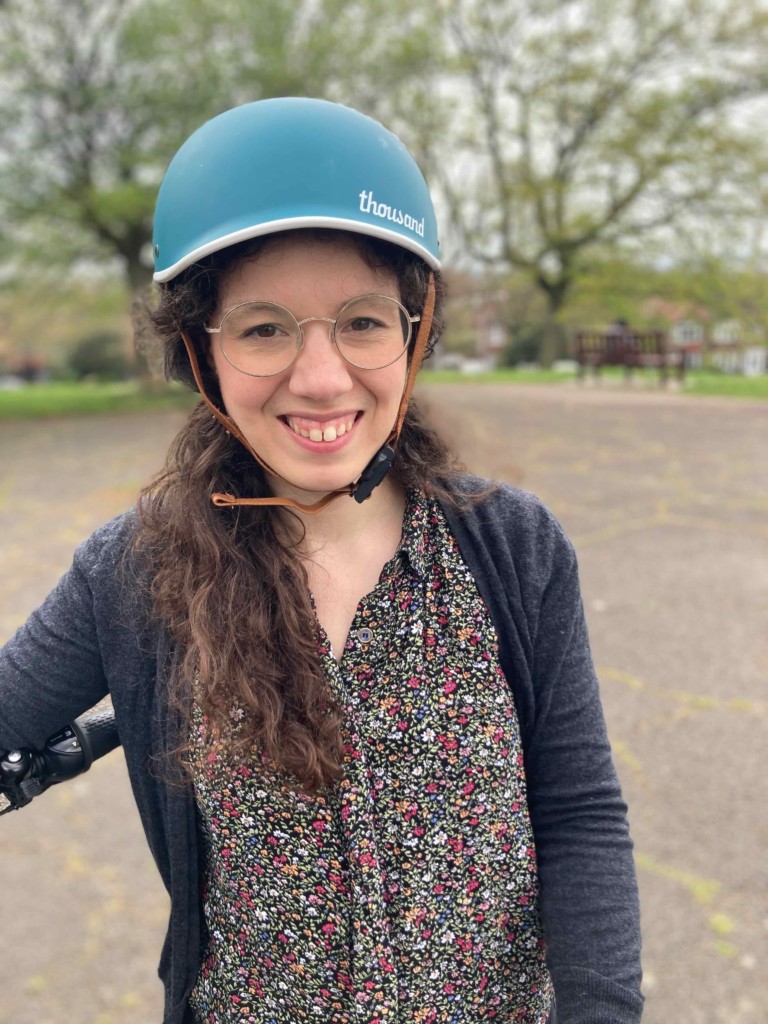 Tell us a bit about yourself?
I'm a historian. I teach university students and do research, often working with communities to develop insights into their past that help them understand themselves in the present.
I live in north-west London, have a nearly two-year-old son, and try to make my own clothes or alter charity shop finds.
What e-bike do you ride?
Tern HSD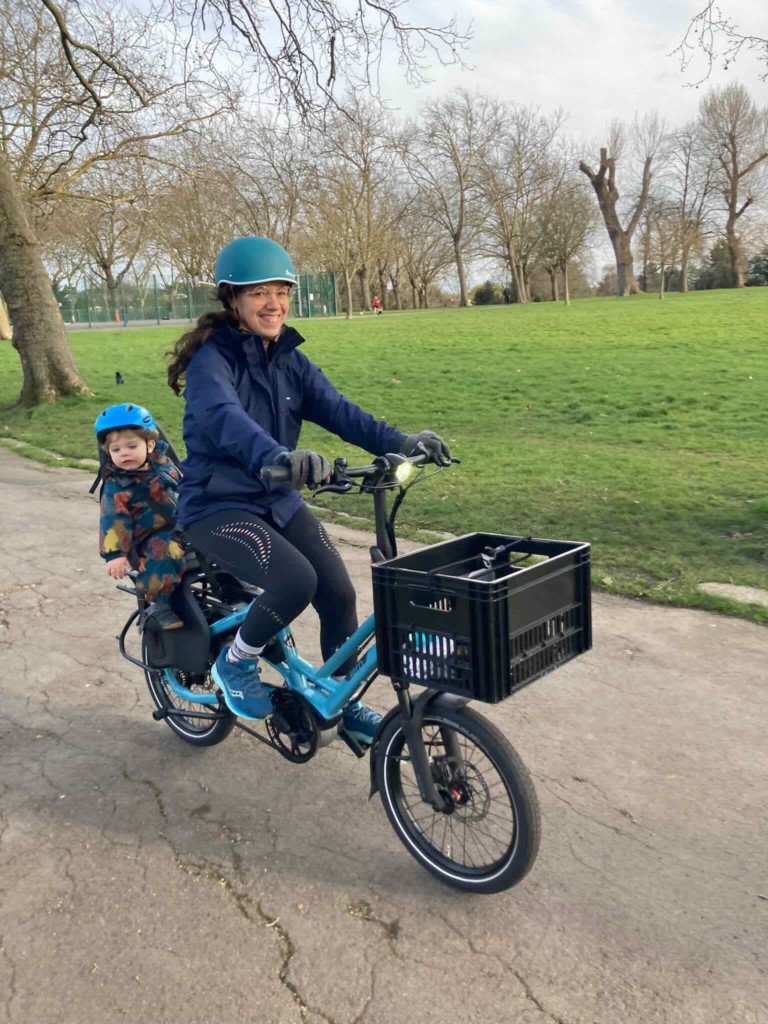 How did you get started on an e-bike and what was the experience like?
Until 3 years ago I could barely ride a bike. I had learnt as a child, but felt very nervous about even starting a bike off. I would often fall off before even starting, I had that little confidence! But my husband loved cycling and was desperate for us to go cycling together.
In lockdown I bought my first (non-electric) road bike. I slowly learnt to ride it confidently, with many mishaps & frankly embarrassing incidents along the way. I had some free cycle skills sessions, provided by Brent Council, that helped me build confidence in a traffic-free environment. And then I began to build my confidence riding on the road, but only when accompanied by my husband. I was worried about getting going at traffic lights and going up hills, concerned about car drivers and their frustration with my slow pace. I was also anxious about what would happen if I got somewhere and was too tired to cycle home. So even though my husband cycled everywhere and was always telling me how convenient and fun it was, I never thought I'd be able to regularly use a bike to get around.
However, once we had our son, my husband and I became part of a local family cycling group (shout out to Harlesden Mums Who Cycle). I was so impressed by how many of the women in the group used their bikes to get around and carried their children on their bikes. I thought they were so cool. I wanted to be like them!
So when I got a new job earlier this year that is cyclable distance from home, I decided to get an e-bike for my commute. The e-assist has made me feel so much safer on the road and meant I no longer worry that I'm not fit enough to make it over the terrain. This has given me the confidence to cycle on my own and carry my nearly two-year-old son on my bike.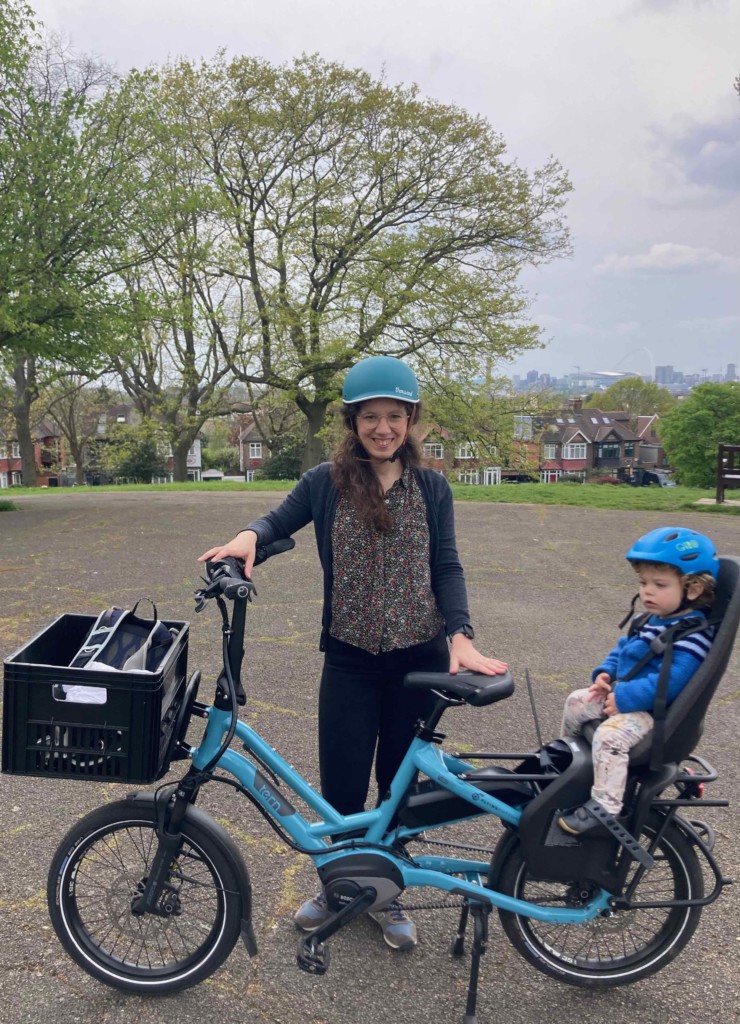 How does your e-bike benefit your life
My e-bike has completely changed my life. By giving me the confidence to cycle on my own, it has given me so much freedom. It has allowed me to access places that are too far away on foot or are not easily accessible on public transport, enabled me to integrate exercise into a very busy work/life schedule (I work full time), and has made travelling part of the fun of spending time with my son. I love it.
What's a typical trip/ride for you on your e-bike?
I initially bought the bike to commute to work. I drop my son at nursery (less than 1KM down the road), cycle to work (around 10KM into central London), and cycle home via nursery. I have a plastic crate on the front and a child seat and pannier rack on the back. This set up allows me to carry my son, his nursery bag, and my work bag, while also giving me enough space to pick up a quick food shop on the way home.
I now also use my bike for pretty much all my journeys in London. I take my son to parks that would otherwise be too far away, pick up parcels, cycle to social events, and use it to go to work meetings in different parts of the city.
Which Cyclechic accessory helps you ride your e-bike with style? (if applicable)
I love my Thousand helmet. I felt like such a fraud in my road-bike, racing-style helmet. I am definitely not a lycra wearing cyclist. This helmet fits with my style and helps me feel like I am cycling on my own terms.
What's one thing you would say to inspire more women to ride an electric bike?
An e-bike takes out many of the 'inconveniences' of cycling. It means you don't arrive at your destination sweaty and out of breath, it flattens out hills, and it makes it easier to carry stuff with you.