We believe e-bikes and e-cargo bikes can significantly help women overcome many of the common barriers to cycling. Women are put off cycling by the following factors:
Safety concerns – a fear of cycling on the roads amongst traffic
Not feeling confident or fit enough
Not being able to carry stuff or children
Not wanting to change clothes or get hot and sweaty
Not identifying with the image of 'a cyclist' – not wanting to be part of the Lycra clan!
Electric bikes not only make cycling feel easier and help women overcome issues to do with fitness, but we feel strongly that certain designs with a low centre of gravity, relaxed riding position and of course the all important motor, truly feel safer – and are safer – to ride.
Through the stories of our customers over the last few years, we've heard some amazing examples of how game-changing e-bikes can be. Now we want to champion the power of the e-bike and inspire and enable more women to ride them. We plan to make some noise, reach as many women as we can and truly shift the dial on the gender gap in cycling and active travel.
'I have found an electric bike that has revolutionised my life by bike. I've cycled for 15 years but was struggling to carry my daughter on my regular bike and I found myself opting for the car for ease. But with a Tern Quick Haul e-bike, I can do so much more by bike and carry so much more. It's a vehicle that suits my life much better than a regular bike and every time I ride it, I feel like part of the future.' Caz Conneller, Founder, Cyclechic.
The Need
According to the UK government's National Statistics for Walking and Cycling, in 2021, men made more than triple the amount of cycle trips than women (24 trips per person compared to seven trips per person) and cycled on average more than four times the distance (89 miles per person compared to 22 miles per person). This is a decrease in cycling trips of 15% for men and 50% for women compared to 2020, with both returning to similar levels to 2019.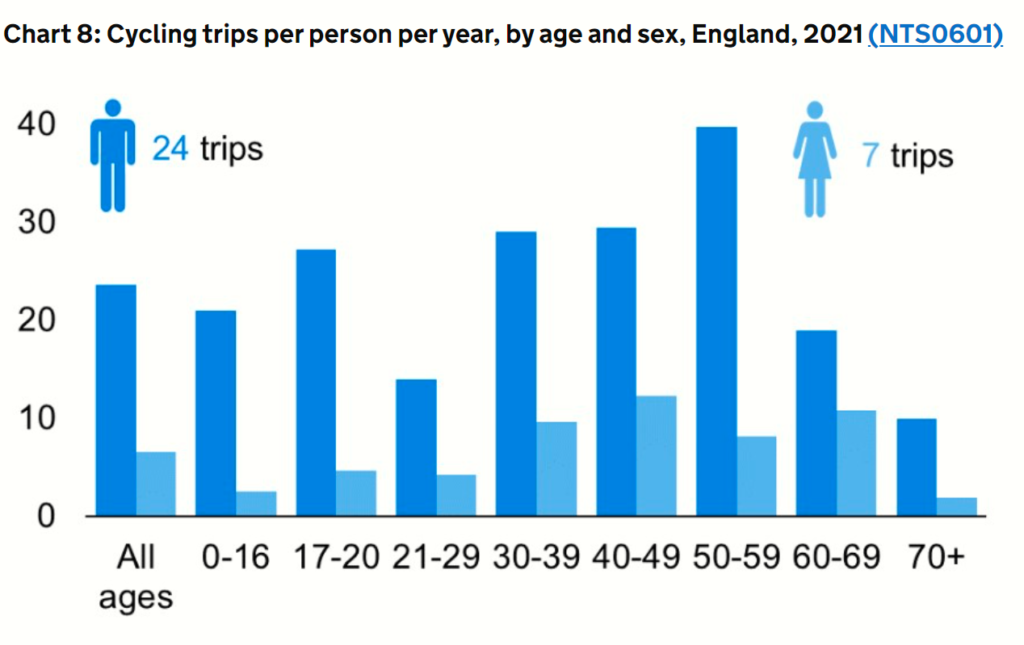 This situation is bad. If we want cycling to be a mainstream mode of transport to meet net-zero targets, something needs to change. We need true gender equity in cycling. We want women to feel as confident cycling as they did during the pandemic. Intervention is needed, and She's Electric intends to address the issue head on by supporting and helping women to feel safe on electric bikes.
Get Involved
We want this campaign to be community driven – women inspiring women – that's why we are reaching out to you to join us. Whether you are an individual with a story to tell, a brand making amazing, enabling e-bikes or an organisation that's passionate about making cycling truly accessible to all, let's come together to both empower women and change perceptions of cycling.
How it Works
We want to create a hub of inspiration and advice, including:
Reviews: We have launched an e-bike review section on the website, carefully selecting e-bikes that we think work well for women. Either Caz or a member of the Cyclechic team has test-ridden and written a detailed review to give you a real feel for each bike and its benefits.
Are you a brand with fantastic future-proof e-bikes or e-cargo bikes that work for women? Want us to review your bikes? Get in touch.
Are you a writer or influencer who wants to review an e-bike for us? Get in touch.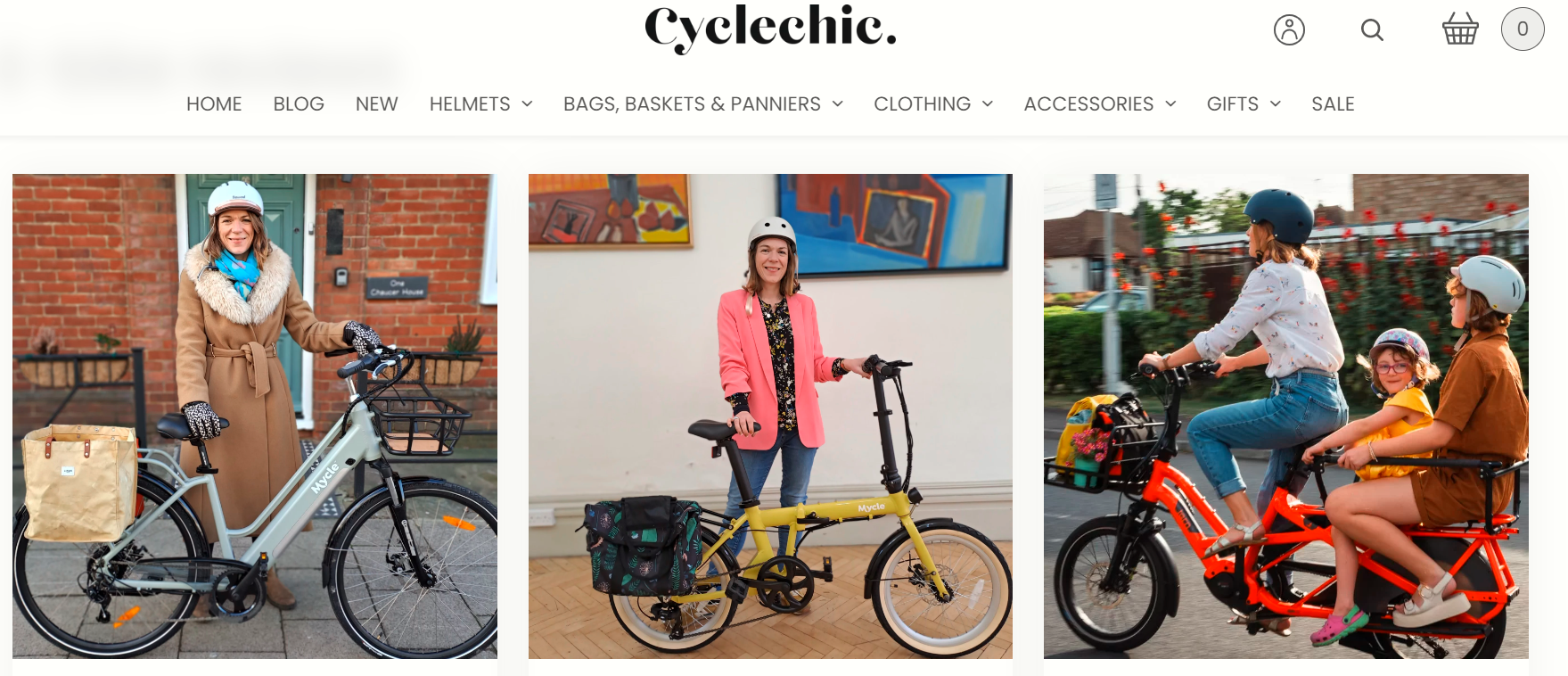 Role Models: We are looking for role models who have felt the power and the benefits of an electric bike and have a story to tell. Is that you? We will send you a short questionnaire to fill out and ask you to send us some photos of you on your e-bike. We'll publish this on our blog and it will form part of our 'She's Electric Role Models' section on the site to inform and inspire others.
Advice: We want to create guides and advice for people thinking about trying an e-bike, and we hope to work with partners to make these as engaging and useful as possible. So if you want to collaborate on these, please reach out.
Exposure & Awareness: We hope collectively we can all shout loudly. We also plan to join fellow campaigners to push for more ambitious national subsidy schemes to help make e-bikes more affordable. According to a study by Bike is Best, 67% of people were put off buying an e-bike by the price. There are way more comprehensive schemes in the US, Europe and Ireland. Why don't we have a more ambitious scheme in the UK? So, if you have the capacity to join forces and help us shout about this on your platform, get in touch.
Next Steps
Contact caz@cyclechic.co.uk with your collaboration ideas and let's make it happen!
Our mission is to get more women cycling through the transformative power of electric bikes. If you share this passion, please join our campaign #sheselectric23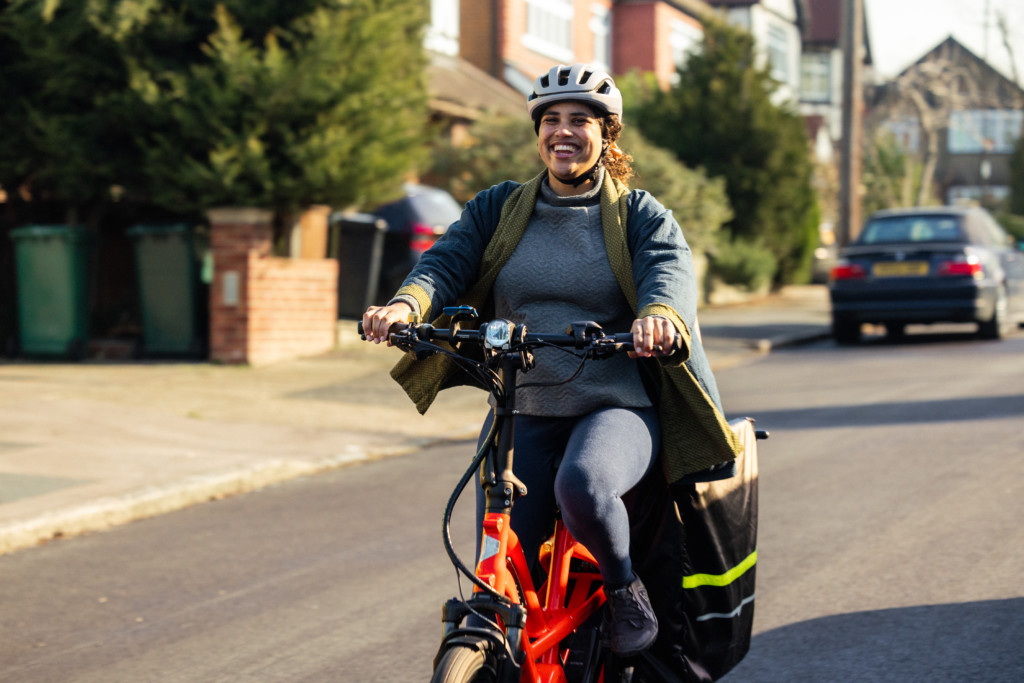 About the authour: Caz Conneller is founder of Cyclechic, and for 15 years she has delivered on the company mission to make cycling more desirable and accessible to women. She is also the author of The Girls Bicycle Handbook, has written about cycling for The Sunday Times and The Guardian and was selected as Cycling UK's 100 Women in Cycling for 2020.