As part of our She's electric campaign the wonderful Vicky Balfour of Vicky Bikes is reviewing the Tern NBD electric bike. The Tern NBD has an ultra low step through making it really easy to get on and off and a low centre of gravity to make for a safe, comfortable and stable ride.
We are honoured to have Vicky reviewing the Tern NBD e-bike for us, Vicky is a true trailblazer in the bike industry, bringing her flagship course Mindful Mechanics, to a very male dominated sector. Vicky not only teaches bike mechanics and presents at high profile events but also writes about cycling. Vicky brings such a fresh and unique take on bike mechanics crossing over with mental wellbeing, empowerment and adventure and when she is not in the workshop, she is out on her mountain bike either on her own or with her beautiful family! Over to you Vicky….
How does it look?
Reminiscent of other cargo bikes but visually shorter, this is an attractive bike which makes you want to choose it over taking the car.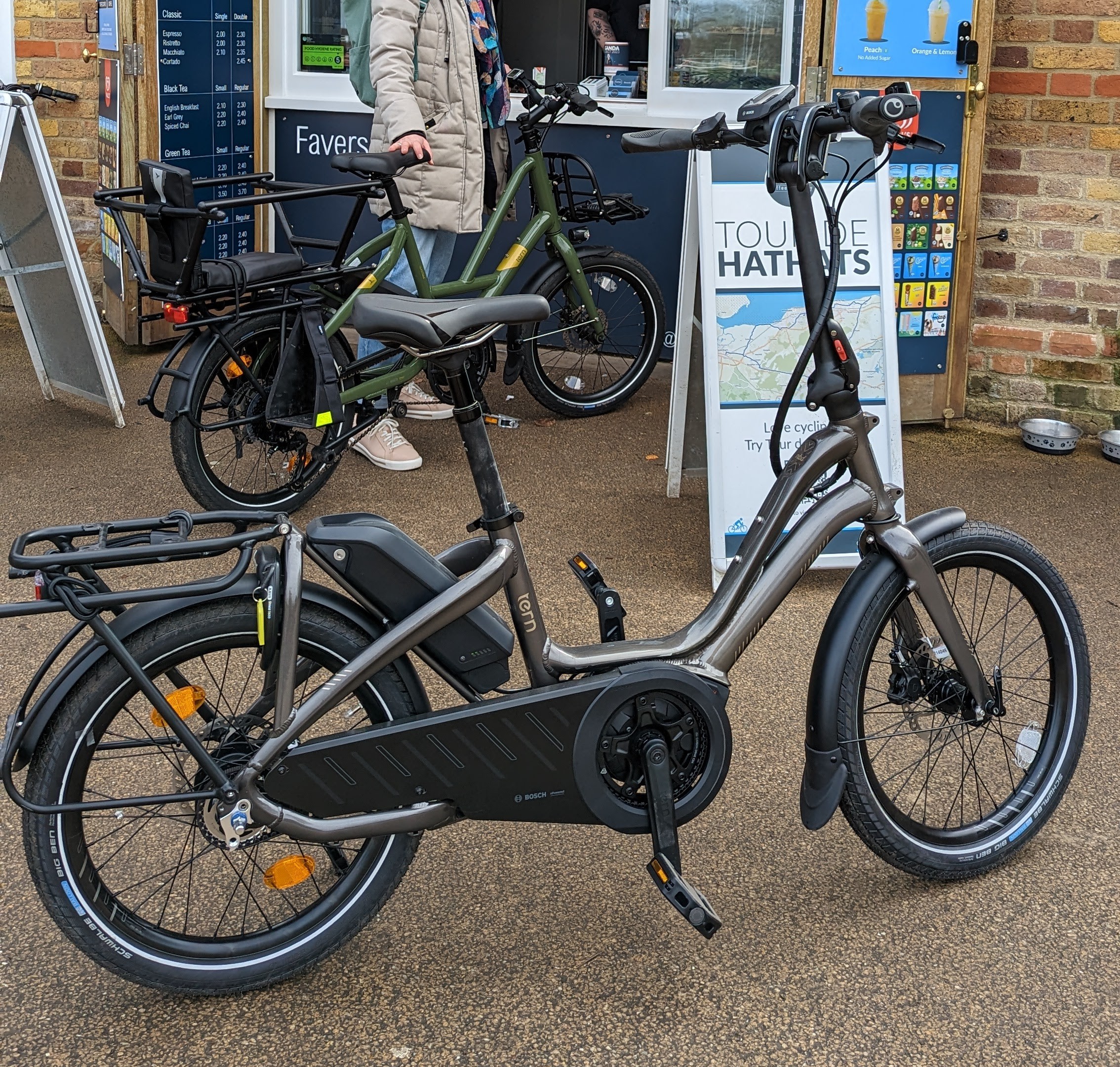 How does it feel to ride?
Fun and planted are the two words that come to mind when describing riding the Tern NBD. It's a joy to navigate round town and the low centre of gravity combined with super-low step through makes it easy in traffic and when needing to hop off and park. We found that even on gravel tracks and muddy paths the nbd held its own with sufficient torque to get you out of trouble going up hills.

The upright cycling position is super comfortable and you feel visible in traffic. It's stable and easy to adjust to different sizes of rider (from short to tall, young to old). At low speeds it is stable and navigable meaning that riding in traffic is not an issue. At higher speed it retains the stability and is comfortable to ride for over an hour at a
time (we didn't test it for longer than that as we stopped when we got to the pub for lunch!).
I also tested the nbd e-bike out with two of my family members who are nervous cyclists, my Mother-law and my son's girlfriend and they both found it really easy and comfortable to ride.

How is it transporting kids and stuff?
We used a combination of The Urban Proof double Panniers and a Mission Cycles piggyback trike pull along to tow a 17 year old young person with disabilities. The bike did so well, only showing its urban pedigree on steep gravel tracks where the small wheels and uneven ground made it harder to get traction uphill. The best use of it was for shopping and nipping round town – precisely what it was designed for!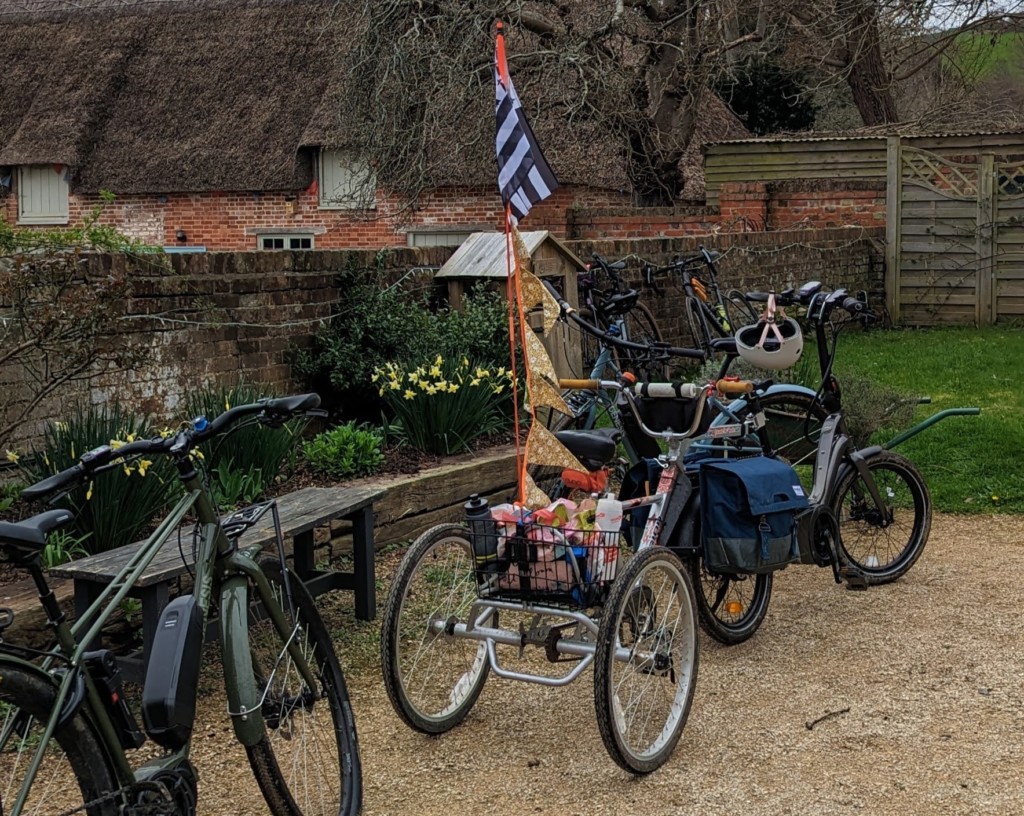 How is it on hills?
Impressive – even with small wheels you don't feel it struggles (unless you're towing a trailer and young adult [see above].). As with many ebikes the link between pressing down on the pedal and delivery of power means that the bike can feel slightly uneven when putting in a lot of effort climbing. However, this is not an issue once you're used to it and there was never a lack of power.

How does it charge?
Very easily and quickly. You can either remove the battery to charge it or you simply plug the long lead in and charge it. There's a cut off so that once the battery is full it doesn't keep charging. We found the correlation between the display screen and battery in terms of remaining charge was accurate. The indication of range adjusts
depending on how much assistance you're using which helps you manage the battery over a ride.

How easy is it to store?
The strong kick stand means the bike is stable when parked, while the shorter length compared to other cargo bikes means you don't over run bike racks. The seatpost drops fully into the frame and the handlebars are jointed just above the top tube so they fold down as well, reducing the whole bike to no more than knee height. At this size it can be put in a car or on a train or motorhome and transported easily.
How much is it?
£3600 for the P8i Tern NBD and £4000 for the S5i (reviewed). While this is a lot, the kit that the bike comes with is well thought through and the brakes, gears and motor all work easily. The belt drive on the more expensive model is a great idea reducing wear and need for replacement if the bike is out in all weathers. I could feel the solidity of the build and appreciated the smooth power deliver that the Bosch motor delivers. Compared to some bikes which can be
jerky this electric assist was smooth and consistent. The grip shift made it easy to change gears even with arthritic hands.

Verdict
While it may not be the ultimate all-round bike for us, this is a great option for those wanting to carry a decent amount of shopping and nip around town, whilst still being able to enjoy countryside adventures. Without doubt, the electric assist makes it more appealing to leave the car at home and with a full set of panniers and baskets this bike would cover most local needs. I really enjoyed riding it and we dubbed it 'the joy bringer' for all the fun it brought.