The fourth Role Model in our She's Electric campaign is Rebecca Crowder!
Tell us a bit about yourself?
My name is Rebecca and I live in a rural village just a 15 minutes drive away from the beautiful city of Bath in the South West of England. I have two young energetic children, both boys, the oldest is at school and the youngest is currently at pre-school.
I love spending time outdoors, and do a lot of hill walking, (we live in a very hilly area so any walk will consist of hills!) cycling and gardening. I am a product designer by profession, and own my own product design business called Blue Dots Design which  specialises in designing products for the cycling and outdoor adventure sports industries. I really love my job, and I consider myself very fortunate to collaborate with well known global brands on their projects.  
What e-bike do you ride?
I ride a Tabasco red Tern GSD, which is an electric cargo bike. I have a front rack which I use for bags/coats/drinks/snacks etc etc, two rear seats and safety rails as my particular set up. I did use a Thule Yepp seat for a year before my youngest son outgrew it.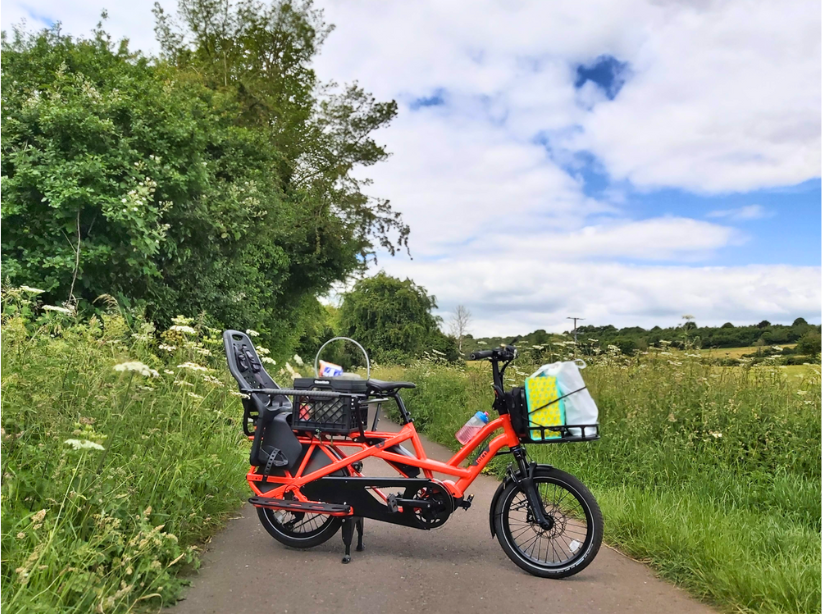 How did you get started on an e-bike and what was the experience like?
I actually started off being given a Tern GSD by a client to try for 6 months. I was working on an e-bike accessories project with them, and they wanted me to be riding one daily and testing out the bike along with the product prototypes I designed for them.
To start with I wasn't bought into it at all and couldn't see myself riding it. I hadn't seen many of them around and felt a bit self conscious. After a day or two however I was completely hooked. I loved it! It was so smooth to ride, easy to use, really easy to climb on and off in whatever clothes I chose to wore that day (jeans, trousers, leggings and a pinafore etc) the children loved it and I just found it so damn useful! I really enjoyed using it as a car replacement for short local journeys to school, charity shop drop-offs and soon I stared to go further afield to the supermarket or riding out just for fun on my lunch break.
The low centre of gravity makes it super stable, so it feels completely safe for the children to climb on and off – under supervision of course. It also means when it is fully loaded with luggage it doesn't feel awkward to ride.
I was genuinely gutted when the client asked for it back, and I felt quite low for a good week or so. I left it a couple of months before I ordered my own, and that was long enough to be without one.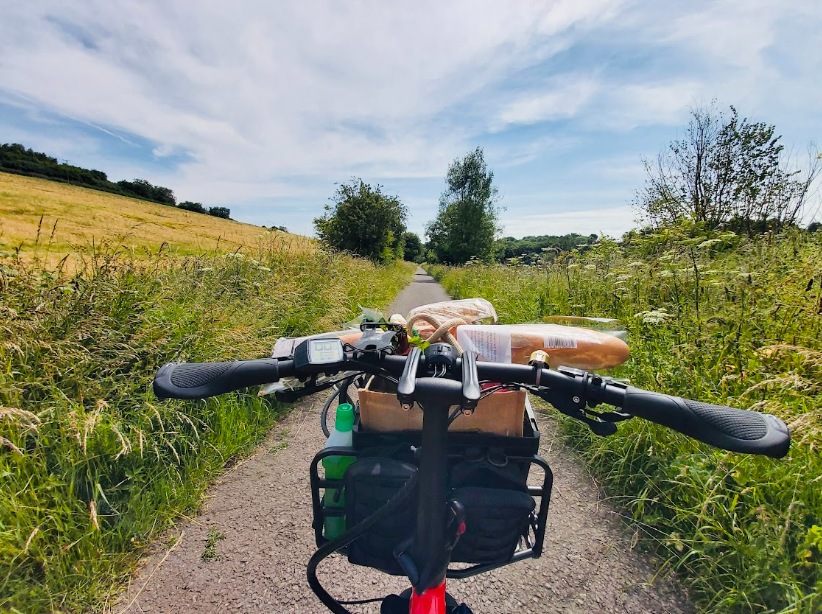 How does your e-bike benefit your life?
In so many ways. I have noticed my fitness has improved since using the bike for journeys rather than the car. Knowing it's there, I make an effort to use it for journeys that would have otherwise have been driven.
I love being out in the fresh air on it too, and living in a rural area I get to see so much more of the countryside and nature that you just don't notice from being in a car. I use it to cycle into Bath or Frome too for client meetings, or days out shopping. It takes longer to cycle into Bath than it does to drive, but using the cycling infrastructure round us makes it so safe. It's also free to lock up a bike in the city centre so avoids paying parking charges or bus fares. It is easier and quicker to get off and lock up a bike in a city centre, than to find a parking space and walk to the shops. With the bike I can stop right outside. The same applies to school runs too. It takes me less time to cycle the boys to school, get off and drop them both off and cycle home again than it does to drive. Because by the time I have parked the car, wrestled the boys out or their carseats and walked to the school from the car I could be half way home again using the bike.
There is a whole network of Sustrans routes near us, so if I have any meetings in Bath or Frome I cycle to those using the Sustrans network of disused railway lines. It helps my credentials too if I arrive to a work meeting for a cycling project by bike!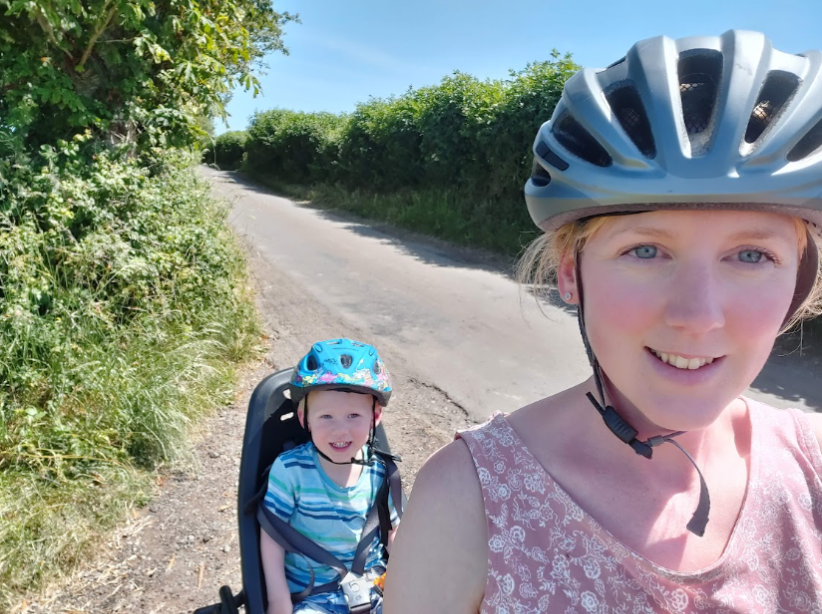 What's a typical trip for you?
The most frequent journeys for us are the school drop off and pick up. I unlock my bike and take it out of the bike shed. After the boys and their bags are loaded on we head out. The school is 3 miles away down country lanes and a very steep hill! The battery assist is an absolute game changer for hills. No way would I be able to cycle 38kgs of children up a steep hill without any kind of assistance. I can cycle right up to the school gate and drop them off quickly and safely before cycling home. During the day I tend to leave the boys bike helmets fastened to the rear safety rails. It means there is no way I will forget them when I go to collect the boys at school pick up time.
What's one thing you would say to inspire more women to ride an electric bike?
I would say from my own experience; don't knock it until you try it! I had my reservations before I tried it, but now I wouldn't be without my electric cargo bike for any price. I love it. Also, don't be put off by helmet hair… there are plenty of ways to get around this issue!!
Make sure to check out Rebecca's wonderful product design business via her website or Instagram!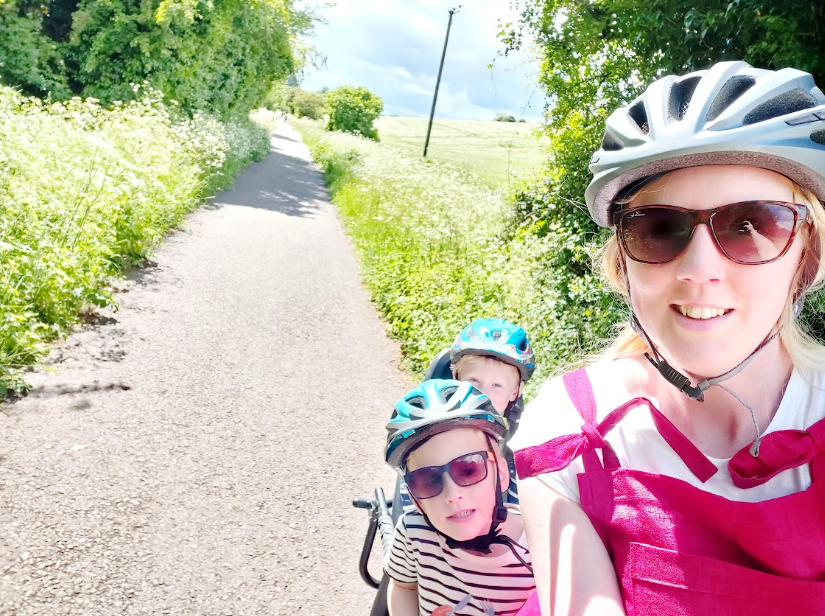 The Tern GSD is now available to purchase through our website. Click here to find out more 🙂