The Mycle Comfort Electric Step Through Bike is a steed of a bicycle. It's elegant and graceful with some real power behind it. And in duck egg blue, it's a steed with style at an accessible price point.
How does it look?
The Mycle Comfort has notes of a classic Dutch bike with its sit-up-and-beg-style handlebars. But it adds a modern edge with its matt finish and sleek metallic battery incorporated into the frame. I test-road the duck egg blue, a colour that just always works, but it's also available in jet black, Henley blue and Bailey blue.
It's a dignified looking bike, with mudguards, rear rack and basket options available, and of course it's electric, so it makes life much easier – a steed with speed and utility. And my vintage coat worked a treat with its elegant style. It's a bike you can definitely express your inner 'Cycle Chic' while riding! We styled the Comfort with The Thousand Chapter Helmet in Supermoon White, Linus Pannier and Weathergoods Leopard Print Gloves).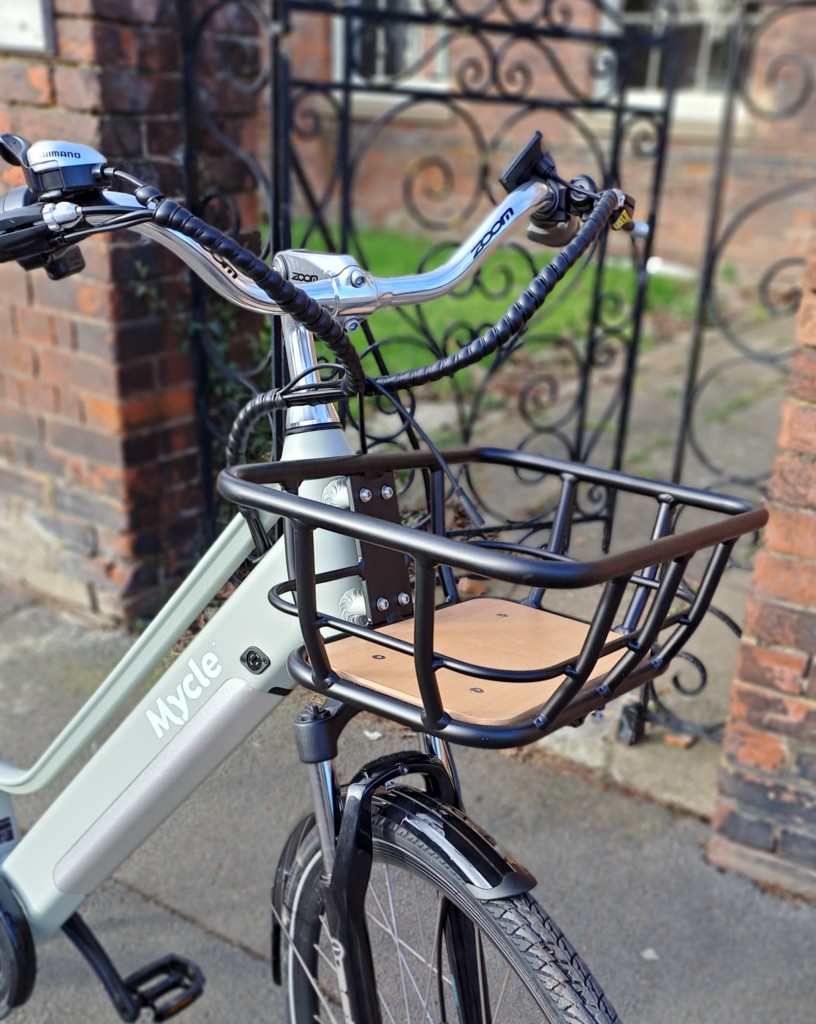 How does it feel to ride?
The riding position feels relaxed and upright, just how the Dutch do it. It has a Selle Royal wide saddle. I am personally not the biggest fan of a wide saddle, but I know many women do find them comfy. I liked the riding position but felt some discomfort in the saddle, which of course can be changed to suit.
The e-assist has 5 levels and is controlled by a display screen up at the handlebars. I found it easy to navigate. Simply switch it on and then press the + to go up through the modes (1-5). I was very impressed with the amount of push it gave me, and it most definitely had some welly when you got to 5! The Mycle Comfort has a range of 45Km so plenty of cycling before you run out of power.
The elegance of its look also translates to the elegance of the ride. Larger wheels than the folding version means you glide along very nicely, and the suspension is an added plus.
I tested the bike out in the town, but the robust tyres and suspension made it a versatile bike that could be used off road for adventures, as well as the commute.
There is an integrated rear brake light and an integrated front light, the rear light was on when the bike arrived but the front light needs affixing.
How's its carrying capacity?
The Mycle Comfort has a very sturdy rear rack built in. This is great, as you don't need to worry about finding a rack and attaching it. You can carry panniers from the word go. And we think some of our Cyclechic panniers match mighty fine. We styled it with our Botanical Pannier & Urban Proof Recycled Shopper Pannier.
You can also buy a front basket as an add on. We really liked the design of this. It bolts on very easily and is incredibly sturdy and strong. It looks modern but classic, with black bars and wooden base. But be sure it doesn't interfere with the brake cables when you install.
The strong rack that's built into the frame also enables you to attach a child seat, and be assured it will be safe and stable on your bike. You can attach a Yepp seat which can take children from approximately nine months (or when your child can sit-up unassisted) to approximately six years.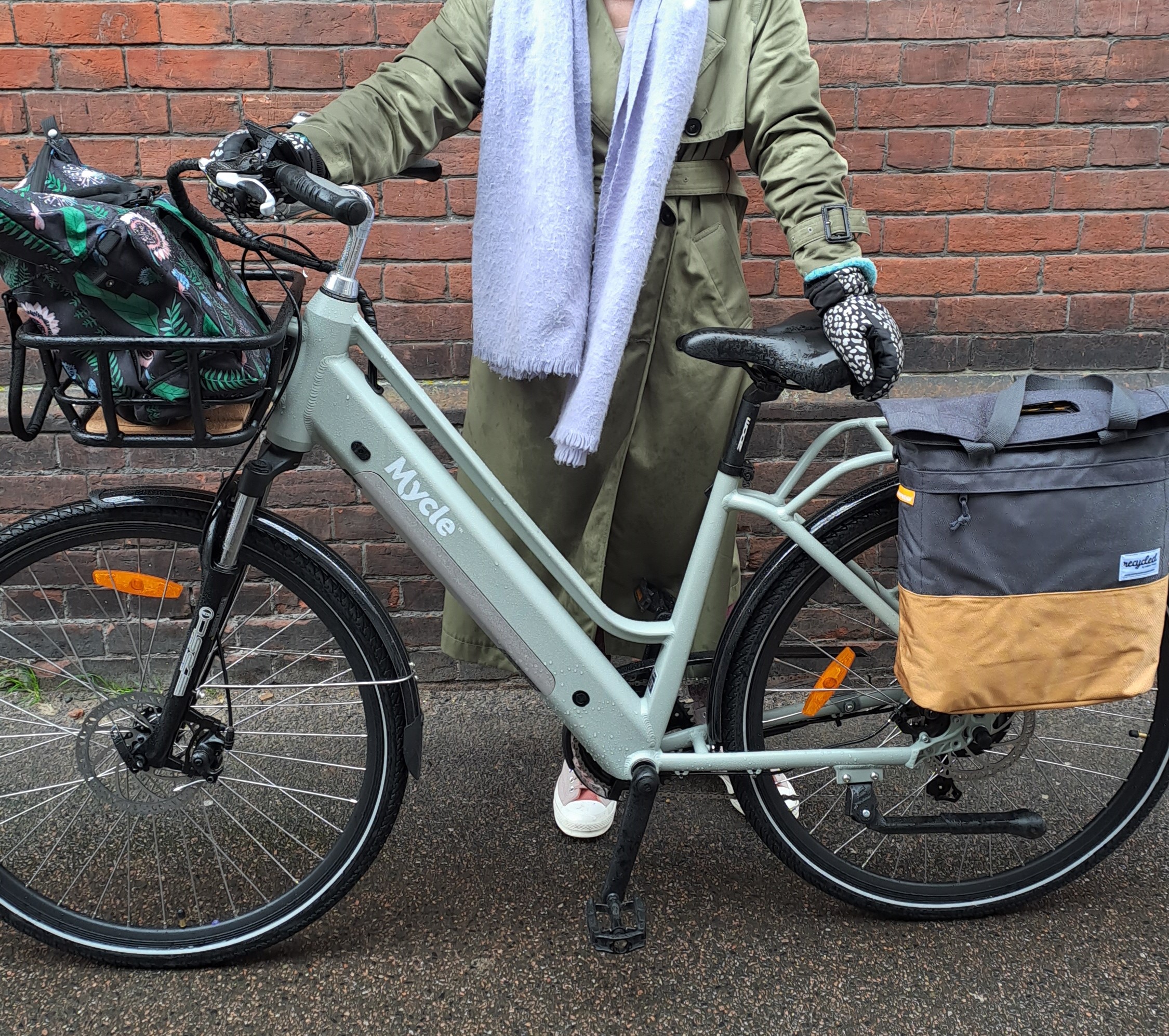 How does it charge?
The battery is easily charged when it's still on the bike. Just pop the USB in the port. You can remove the battery if you want to bring it into the house or office to charge. It can also be locked to the bike so there's no chance of theft.
How easy is it to store?
It's a similar size to most classic-style ladies' bikes, so it can be easily stored in a garage/shed/porch, but it's not as small and compact as e-bikes with smaller wheels, like the Benno Remi Demi. When locking it, I sometimes had to play around with the lock, given the design of the frame, as there is only a small gap within the frame. And it's quite heavy, so it's not a bike to be lugging upstairs. I would definitely look to its folding sister, The Mycle Folder for that.
How much is it?
At £1,099, it's a great price for an e-bike and there are Cycle to Work options available, too, helping you to break down the cost and pay through your salary.
Verdict
All in all, it's a handsome bike with power and grace at price that doesn't break the bank. It can work for daily life, commute and shopping, but also for a spot of electric off-road fun!