I am in love…
The Benno RemiDemi is like no other bike I've ever ridden. It looks different and it feels different, and I have to say I've fallen hook, line and sinker for it. This multi-tasking e-bike ticks all my boxes for practicality, being capable of carrying kids, shopping and work stuff, but most importantly it JUST FEELS SO COOL TO RIDE.
I test-rode the yellow RemiDemi at Fully Charged in London Bridge. Read my full review to find out why I loved this electric bike from Benno, so much.
How does it look? The simple U-shaped frame and small but chunky wheels are a refreshing change from the raft of e-bikes that follow a traditional ladies bike design. It feels somewhere between a bike and a snazzy Italian moped. You can tell it's designed by someone who understands women and what they want from a bike. Enter CEO and Founder of Benno, Benno Baenziger.
Baenziger co-founded the Electra Bicycle Company in 1993, which became a leading lifestyle bike brand. Its iconic 'Townie' became America's best-selling bike! A huge number of women were inspired to start cycling by the stylish image of these bikes and the comfort of the ride.
Benno has now branched out into e-bikes with 'the goal of reinventing bike design once gain', creating a whole new bike category called 'Etility', which combines 'looks', 'ride' and 'cargo' into the design. This results in a super-useful vehicle that you want to be on every day.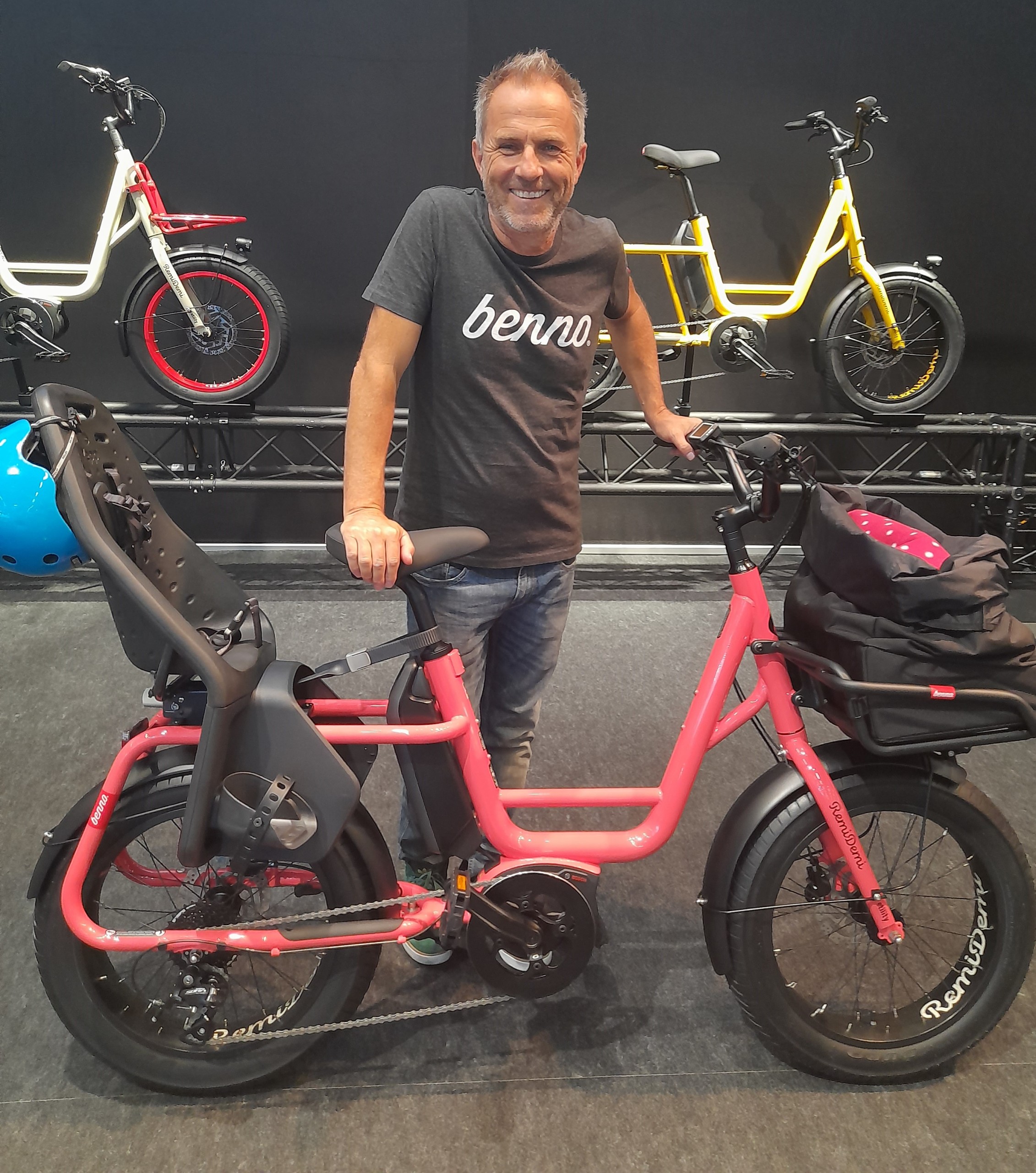 What's clever about the RemiDemi, however, is it's not overly feminine. With its fat, grippy tyres and compact shape, it's incredibly unisex and can look quite masculine in the darker colours. It's a great choice as a family e-bike for both partners to use (and feel cool on).
But the colours are the icing on the cake. The Turmeric Yellow and Coral Pink are stunning or, if you want to be more understated, try the Anthracite Grey. And the mudguards will ensure that any outfit you are wearing to match this gorgeous bike will remain splatter free.
How does it feel to ride?
It feels really nippy to ride, with a comfortable upright riding position. And the wide saddle felt super-comfy too. It has a Bosch Performance 250W, 65Nm Mid-Drive motor. Bosch are the market leaders in e-bike motors, and whilst I'm no technical expert, from a rider's point of view, there's something about the smooth transition between modes, combined with the power, that sets them apart. It has a 400wh battery with a ride distance of about 65 miles.
The chunky, grippy tyres also make it a really stable ride. You can feel confident you don't have to swerve out of the way of potholes, and it's very easy to manoeuvre. I felt very comfortable navigating the busy London streets.
Baenziger is also a pioneer of flat-foot technology – bikes designed so you can get both feet flat on the ground quickly, which makes stopping and starting much safer and easier.
This e-bike is also easy to manoeuvre when you are off the bike and pushing it along. The tyres help you mount kerbs when walking, and its easy to park up, which is really important if it's going to be a vehicle for doing errands around town, stopping at the shops and getting kids on and off. Some larger cargo bikes can feel cumbersome to move around but not the RemiDemi.
How is it at transporting kids and cargo?
The 'Etility ' ethos of the design means they are brilliant at carrying kids and cargo. The frame has an extended loop at the back to give it extra carrying capabilities.
So, if you want to use this bike as a car replacement for the school run, commute, shopping, etc., it's an ideal choice.
'We don't build electric toys. We build true 2-wheeled transportation.' Benno Bikes
You can carry up to 40kg on the back (6.2 stone), which corresponds to a child up to roughly the age of 11, according to national weight averages.
You can install a Thule Yepp Seat for younger children, roughly 1-6 years, or a Passenger Kit with padded seat and footrests (pictured) for older kids. This attaches the the Jump Seat Rear Rack. I would proably start my 5-year-old daughter off with a Thule seat and move her to the Passenger Kit in a year or so as she just felt a little small for it when she climbed aboard.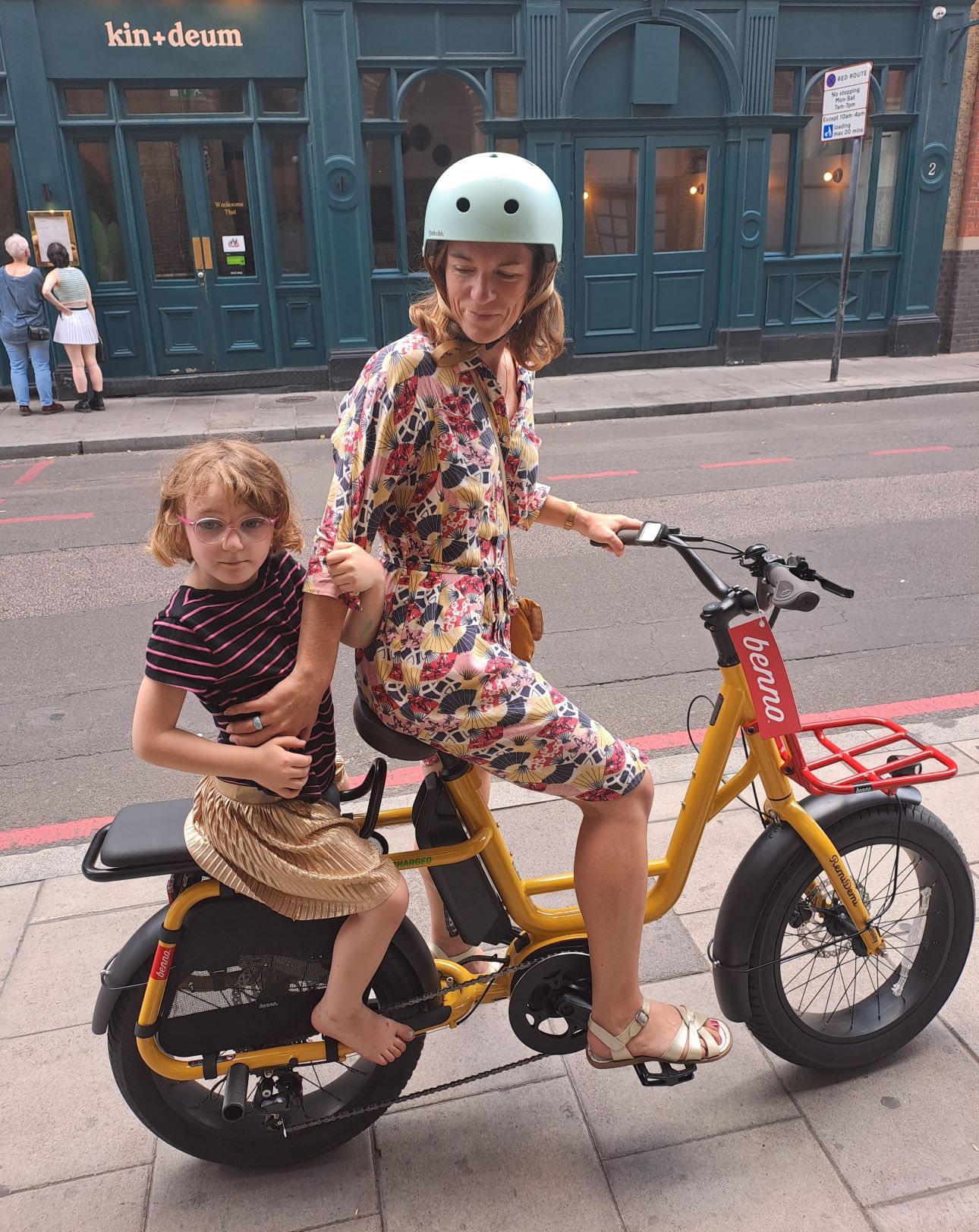 Also, the fact that the rear rack is lower than a regular bike means older kids can climb on and off themselves, and it's easier to lift smaller children onto the seat. It will only accommodate one child, though, so if you have two, take a look at the Benno Boost which can carry up to 60kg on the back.
You can also choose from a selection of front carrier options and panniers. It will even accommodate a surfboard! Check out Benno's guide for what it can carry for the full lowdown.
How easy is it to store?
Very easy! It's a compact e-bike with small wheels and will tuck into a hall or porch nicely. It also has its own kickstand, so it doesn't need to be leant against a wall.
What kind of cycling can you do on it?
It's designed for urban cycling, commuting, school run and general about-towning. It also has built-in lights so it's great for night cycling and saves that hassle of hunting for your lights when the nights suddenly draw in.
How is it on hills?
With a Bosch Performance Line motor, hills are a doddle.
How much is it?
£3,399
In conclusion: The innovative new style of the RemiDemi hits exactly the right note for a bike for now and for the future. It's a practical workhorse, but it looks good, too, and just feels totally awesome to ride. And as feeling and looking good on a bike are incredibly powerful drivers to encourage more women to start cycling, I think this electric bike could be pretty revolutionary. A bold new bike for a bold new future of transportation.
If you want to test ride a RemiDemi get in touch with Fully Charged. They sell the Benno range amongst other great e-bike brands. They have a wonderful, welcoming store in London Bridge, that even has a play area for kids.
We are partnering with Fully Charged to get more women on ebikes. If you buy a bike from them, you get a Cyclechic Deco helmet and a pair of Retro crochet cycling gloves for free. Just quote the code 'Cycle-e-chic' in store or if you order online drop them an email with the code. Read more about our partnership here.