The car is so last century. The way forward is electric, sustainable and has two wheels not four. The family e-bike.
At the recent London eBike Festival, I got to test-ride a whole host of fantastic e-bikes, but the ones I really, really loved were the brands like Tern Bicycles that screamed practicality. I know I could get my kids, dog, and shopping on with me, and actually, truly use it as a substitute to my car.
When chatting to the product designer at Gazelle, I asked him to show me their most popular ladies' e-bike. He looked at me puzzled and said, 'Do you mean family e-bikes?'
Yes, I said, newly enlightened to this game-changing term. Yes, that's exactly what I mean! I want my husband to ride it too and for it to be our run-around for the school run, drama-drop and the glamorous weekly trip to Morrisons. I want to stop making excuses that I need the car for journeys that involve the kids. I want to be able to transport both my 4 year old and 13 year old. And YES, I WANT IT TO BE OUR FAMILY E-BIKE! Thank you, Gazelle.
And with this revelation, the regimented 'ladies' or 'men's' bike notion gets tossed on its head. It's clear e-bikes are really changing our perception of what a bike should be and what its use is.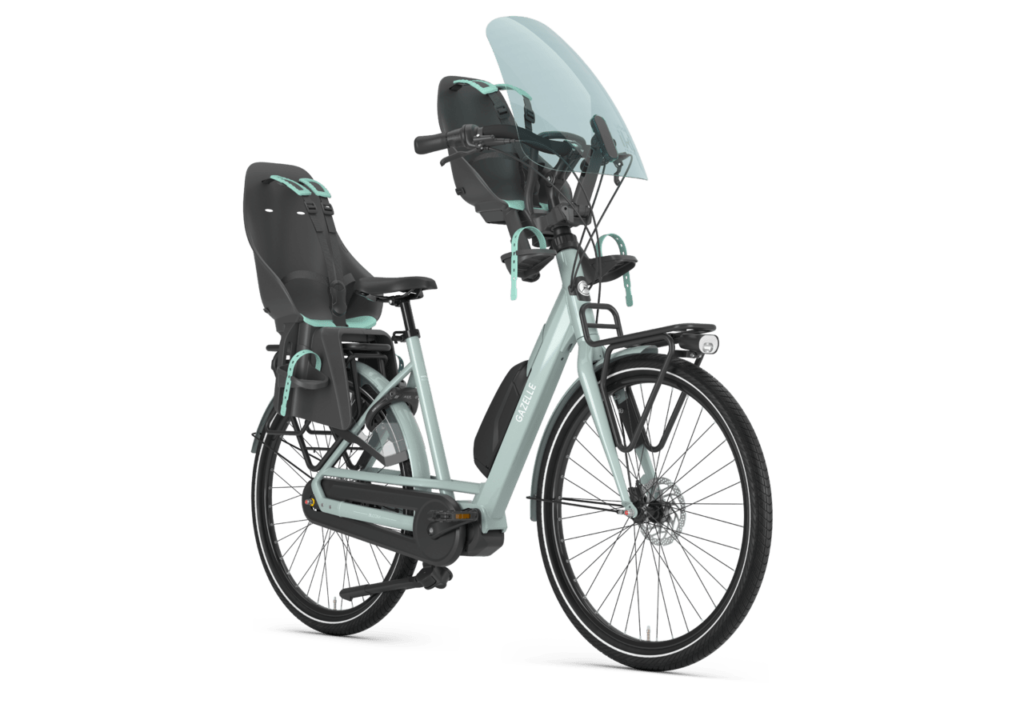 I am now just deciding which family e-bike I go for. I loved the Tern Bikes. They are so nice and nimble to ride, and they just felt so cool! I know I'm 43, not the 28-year-old who launched Cyclechic way back when, but I still would like the option of feeling cool. I'm not ready to roll over yet.
Speaking of being 43, whilst I am still reasonably fit and healthy, my body is giving me signals that I can't just do whatever the hell I like physically anymore. I have been suffering with back ache and hip ache recently and got diagnosed with a misaligned pelvis. Ouch! I am sure this is from years of carrying children and more recently twisting and lifting to get my four-year-old on and off the seat on the back of my regular bike.
The Tern bikes I test-rode are very stable when on their stand, so I can envisage my daughter climbing up by herself. And I know the electric assist will help put less pressure on my hips and back when I am setting off and going up hills. I now see a future in carting the kids about by bike, rather than thinking 'there's not much longer my body will take this.'
Tern have a new model, the Tern Quick Haul P9 in Olive green coming out this summer, priced at £3,000. This is currently my front-runner.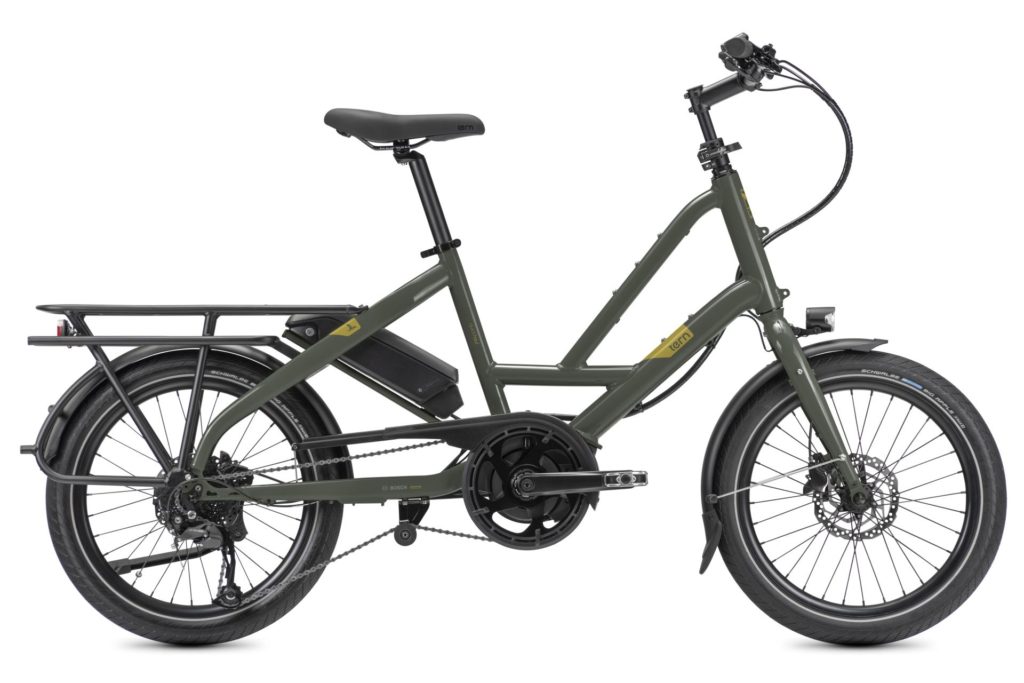 They do a more expensive model called the GSD, which I also test rode, and it was just beautiful to ride, It's a cargo bike and has an elongated frame with extra space on the back for more children, dogs, shopping, kitchen sink, etc. And the Tern rep tells me there is strong community of poeple riding these and using them as car replacements.
The Tern e-bikes all have Bosch motors which, I am told by experts, is the crème de la crème when it comes to e-bikes. Another big appeal of The Tern e-bikes is that they are built to last, and if you are going to spend £3,000 to £5,000 on a e-bike, you want it to last. The Tern bikes have a ten-year guarantee and the team at Tern are devoted to producing e-bikes of high quality that will go the distance, and then some.
Another thing that really appeals to me about this style of longtail-yet-compact e-cargo bike is that they are not overlarge, thanks to the smaller wheels and clever design.
Bike43 are another brand that caought my eye, although these have extra space at the back, they're the same size as a regular bike or e-bike, see the diagram over on their website. And most of the Tern models fold or semi-fold. Pretty impressive! They are also super easy to adjust for different riders so husband and wife can share or mother and daughter.
This compact size is such a plus-point, as you want to be able to park it quickly and easily when offloading kids. And for many of us, the traditional cargo bike with its large barrow-style box upfront is just impossible to store at home. The Tern bikes will tuck away nicely.
The traditional kids' cargo bikes are great when children are little, but they have a shelf life and are not so useful when your kids are too big and too cool to be in or on your bike. But these more compact and versatile family e-bikes can be a bike just for you and your shopping or work, or you can change the seat to get older children and teenagers on the back, they even have a specific carrier to get your pooch on board. Love This! It's a bike to last you, through your diffrent phases of life, not just the toddler-taming days.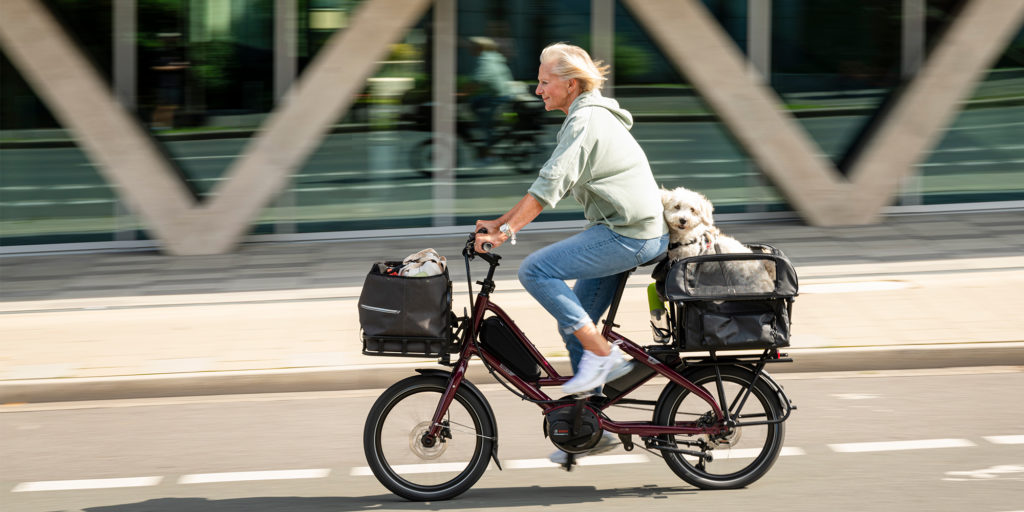 Veloe is another brand that does a very appealing bike in this style, and I am absolutely loving the yellow frames and all the add-on accessories you can get to make it versatile for your needs.
UK brand Mycle also has a cargo e-bike I'm hoping to test-ride one of these very soon and will report back. Just loving this speckled white frame, and the price is very competitive at £1899.
The future of cycling is bright and crackling with electricity and hope, I truly hope to be riding around in one of these by the summer, leaving the car at home, reducing my carbon footprint, and hopefully looking cool, or at least feeling it anyway.