Our little Kentish town of Faversham likes a festival. We have a Hop festival, a Nautical Festival and Literary Fesstival and the new kid on the block is a Cycling Festival AKA Faversham Cycle Fest!
While we could do with some improvements to infrastructure for cycling, the town does naturally lend itself to getting around by bike as it's quite small and nowhere is more than a mile or so to get to. We have a great Town Council who are pro all things green and sustainable and a strong sense of community within our town. Cycle Fest seems like a perfect chance to harness all of this 'good stuff' and get more people cycling!
As the owner of a cycling company and as someone with a passion for active travel and encouraging more women to cycle, we are excited to be involved with a couple of the events.
The first one is a Women's drop-in Clinic on 6th July 10am-12pm.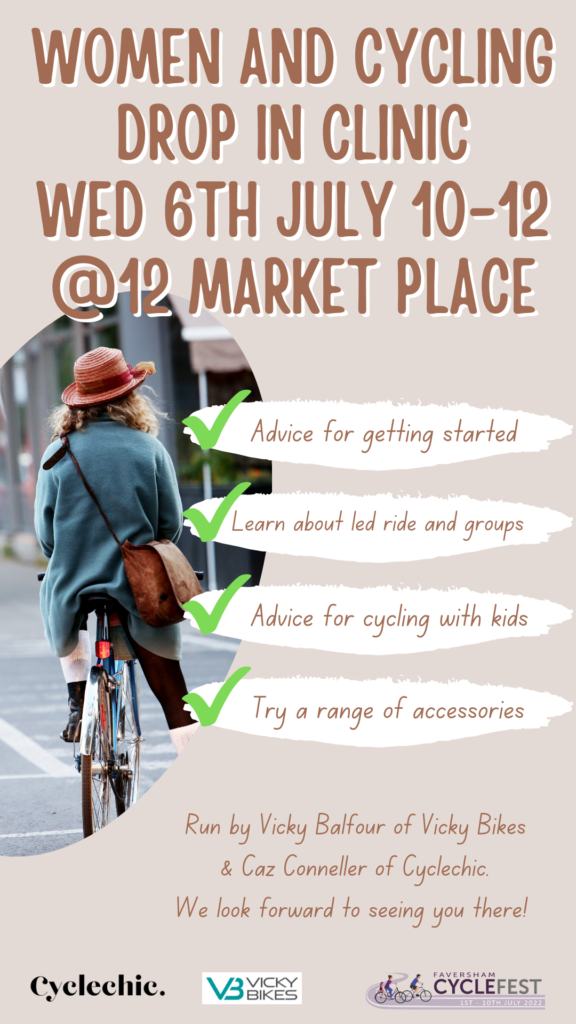 A women specific drop-in to help more women overcome barriers and get cycling in Faversham. Come and talk to Vicky Balfour of Vicky Bikes, trained bike mechanic and ride leader and myself, Caz Conneller, Cyclechic owner and author of the Girls Bicycle
Handbook. We will be offering friendly advice on how to get started or get back on your bike, from fixing a puncture to finding the best routes to getting the kids onboard too and what to wear. We also want to learn about your barriers to cycling in Faversham to see what we can do to help more women get on two wheels in the town. Booking not required but you can register your interest on the Facebook group.
The second event is Community Cycle Day on the Rec, Sat 9th July 10-2pm.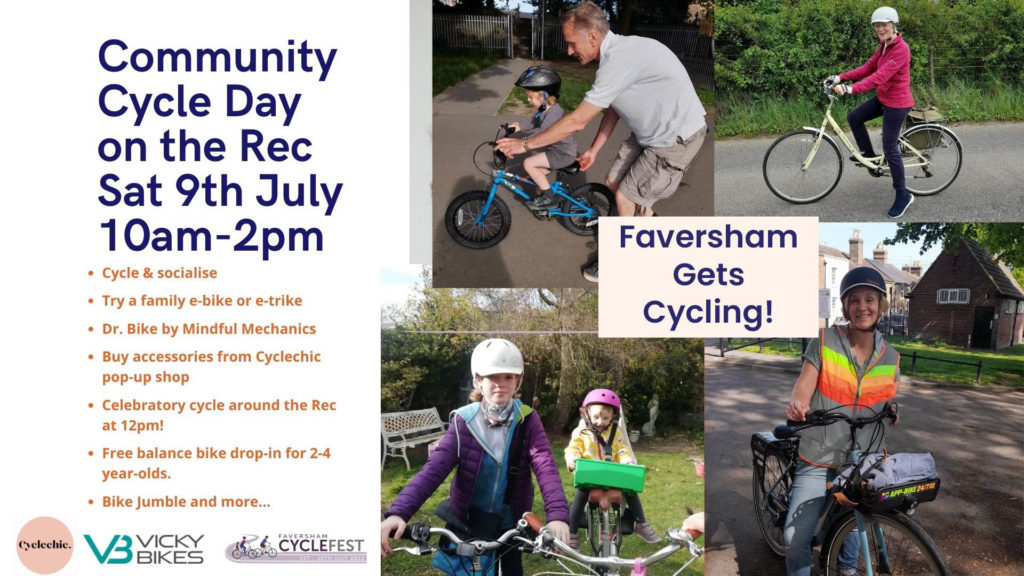 An inclusive event for any one who already cycles and those who don't yet but would like to… We will be there with a Cyclechic pop-up shop, for people to come and try on helmets and stylish Hi Viz. Vicky Bikes will be there with a Dr. Bike by mindful mechanics and confidence building by Resilient riders. There will be a Bike Jumble Sale, a free balance bike session for 2-4 year olds, A family e-bike and e-trike to testride, a treasure hunt for kids and lots more! Register your interest on the Facebook Group.
In addition to these two events are also lots of led ride for different abilities going on from the town centre and from fellow partners Macknades, have a look at all the events over on Faversham Town Council's Facebook page.
If you are local, please come along!