Am I too old to ride an e-scooter? I hope not. I've been keen to have a go on one for a while, but with no shared scheme near me, it's not been that easy. Fortunately, the good people at Eskuta sent me a KS-450 test out, much to the embarrassment of my teenage daughter. I have to say I love it.
Women & e-scooters
Currently in the UK more men ride e-scooters than women. A gender study by shared micromobility operator Dott and Steer found that only 29% of their ridership numbers in the UK were women. But surely a new zero-carbon mode of mobility that's quicker than walking, cheaper than a car and possibly easier than cycling needs be celebrated and embraced by women just as much as men.
When I asked my female friends what they thought about e-scooters, the responses were 90% negative: 'dangerous', 'reckless', 'I confiscate at least one a week at school'. Not one of them took the question to mean: Would you try one yourself?
My teenage daughter was equally cynical. 'They look dangerous,' she tells me. 'I would just laugh if I saw a girl my age riding one.'
Image is everything to a teenage girl, but surely this new mode of mobility has so much potential for her age group as they move forward into young adulthood in a world that desperately needs to decarbonize.
A study called 'Shared E-scooter and Gender Equity' by operator Voi in partnership with JFG communications and Women in Transport found that riders were commonly negatively characterised by non-riders as young men riding transgressively. One female participant said: 'The only time I see people using them is for fun, playing around with mates or getting up to no good. These are not scenarios that attract me.'
I fear e-scooters are developing an image problem that's putting women off. And this is further compounded by confusion of where, when and who can ride them. It reminds me of when I first started Cyclechic, cycling had an image problem but it was more about middle-aged men in Lycra than teenage boys in hoodies. In both cases a male-dominated picture makes women think this mode of transport is not for them but at least with bicycles there was clarity on where you can ride them.
What are the current rules on e-scooters?
If you are confused here's the lowdown: It's currently illegal to ride a private e-scooter on public roads or pavements. You can only ride one if its part of the national e-scooter trials.These are being conducted in approx 50 towns and cities in the UK. Micromobility operators like Beryl, Tier, Voi and Dott are permitted to run shared-schemes, similar to the Santander bikes.
You download the app to release one, use it and then return it to a designated dock, and in most cases you need a driving license. Change is supposedly on the way in the form of 'plans to create a regulatory framework for smaller, lighter, zero-emission vehicles, sometimes known as e-scooters,' according to Baroness Vere, Parliamentary Under Secretary of State at the Department for Transport. But there have been delays, and there is currently no clear time frame.
Nevertheless, I've been testing one out and have had several comments from friends and neighbours demanding to know, as a professional woman in my forties, why the hell I am riding an e-scooter! To which I reply, 'Well, it gets me places quicker with minimum faff and bother. Show me a busy woman in her forties who that doesn't appeal to!'
A postive female voice: Why I like riding an e-scooter
They are easy to ride. Like any mode of transport, they take a little bit of getting used to, but once you get used to the first jolt of speed and practice stopping and indicating, they are easy and fun.
They feel empowering. I liked the standing position. I felt more like Boadicea riding her chariot than a teenage boy in a hoody.
There is less 'faff factor' involved than with a bike. They are small and fold down so you can keep them in your house. I just keep mine in the hall and grab it when I grab my bag. I can take it up to my office, so I don't need to lock it outside and worry about theft or a wet saddle if it rains.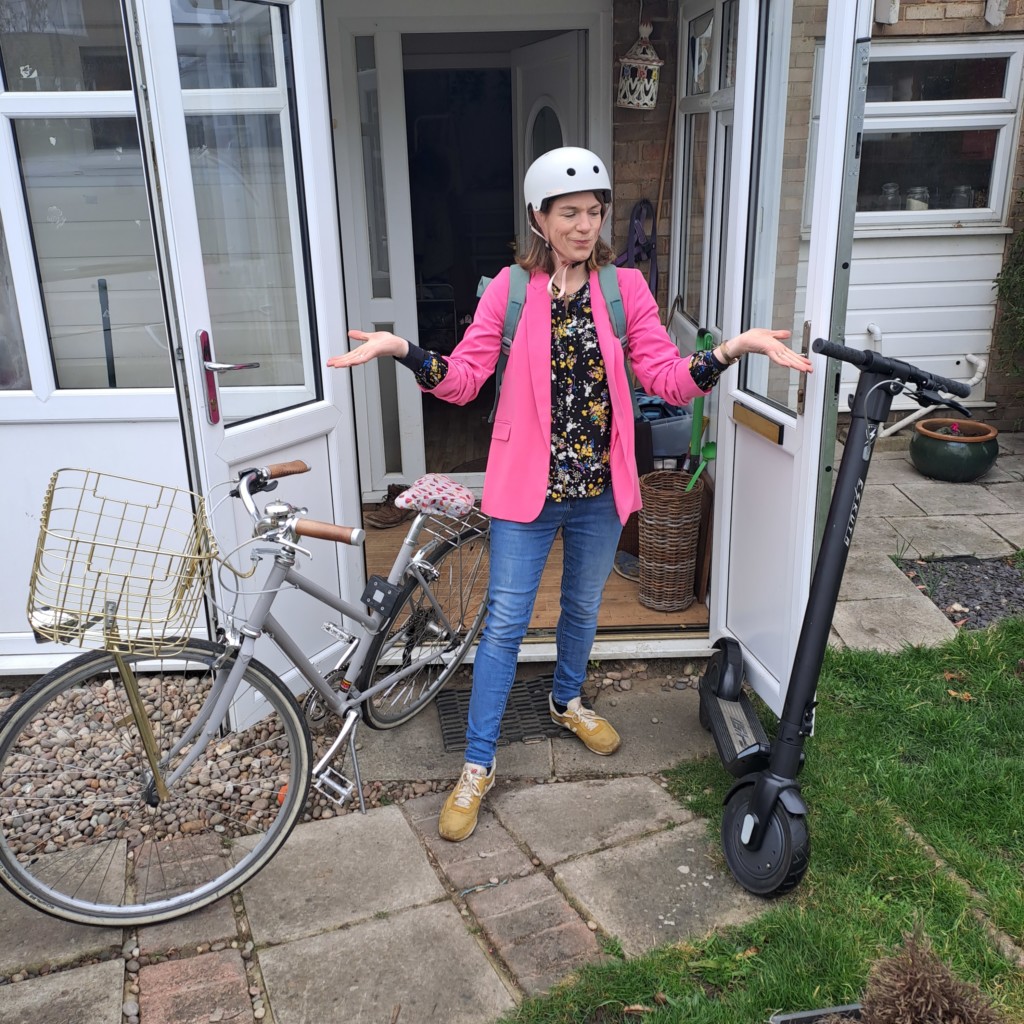 Sometimes I felt self-conscious because of the legal sketchiness, but I also felt confident riding it on the road in slow traffic from a safety point of view. I acted the same as I would on a bike. I was aware of and courteous to other road-users but also asserted my position on the road. Despite the controversy, I felt that by scooting responsibly there was a harmony between me and the other road users.
I missed the rhythmic rotation of my pedals, and I admit you can't carry as much on an e-scooter as you can on a bike or in a car, but my verdict is highly positive: They are a quick, fun, efficient way to get around for local trips, and I felt good riding one.
Potential for the future
The shared schemes are showing real success in reducing car trips. A recent report by Voi users stated 36% have drastically reduced car use. The Oxford scheme grew by 39% in 2022 with one million miles worth of journeys over the two years it's been up and running, according to Zag Daily.
So, surely, if anyone could access one and ride one, the impacts of reducing car usage could be significant countrywide, not just in larger urban hubs.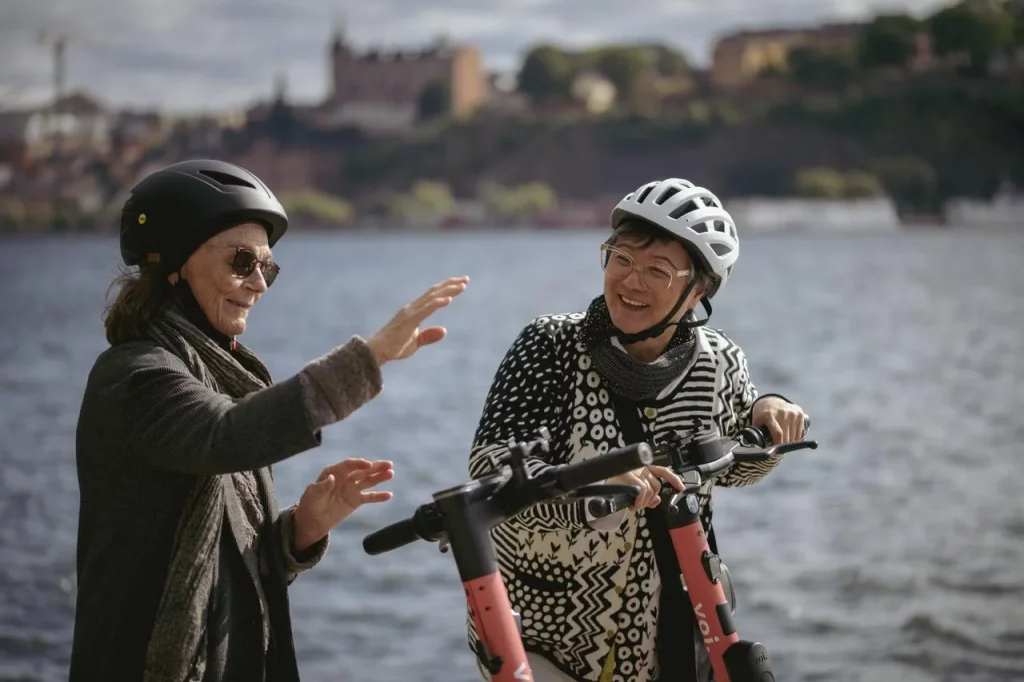 I see a woman going past my house most days on an e-scooter. I managed to talk to her the other day and asked her about her e-scooter. She beamed at me and said, 'It's like my car.'
If more women discover the benefits, and we have a transport system that will enable them, and women feel safe using them, then there could be so much potential for uptake across age groups.
And if there are changes in regulations and infrastructure, the next generation of women – many of whom have developed fantastic scooting skills in childhood – will see e-scooters as a positive way to get themselves about. And one that is 100% for them.
This article is part of our She's electric Series – Electric inspiration for forward thinkng women.