My new car is an ebike. It's a Tern GSD S10 in Tabasco Red from leading Electric bike retailer Fully Charged, and after two weeks of riding it I am a complete convert. I have officially gone electric.
This wonderful, practical machine has replaced my bike and my car (for local journeys), and I'm not sure I can ever go back. Read my review to find out how the Tern GSD electric bike could benefit your life, helping you to feel safer and more secure on the road, use your car less and get more stuff done.
I'm a busy working mum of two and getting stuff done is high on the agenda. And when I look on the frame of The Tern GSD, it says those very words: 'Get stuff done'. This bike is speaking my language.
I have always cycled a lot for local journeys, but sometimes the car is just quicker and easier. And as my youngest daughter, nearly five, gets bigger (and I get older), getting her on the back of my regular bike is becoming harder and harder. Yes, she can cycle her own bike, but as many parents know, with busy roads and recycling bins in your path, that's not always an efficient, stress-free solution. You need to get them on and go, deliver them safely to school, and get on with your day without turning into a shouty, stressed out mess, all before 9am.
Enter the Tern GSD…
How does it feel to ride? It may sound cheesy but when the electric power kicks in, it makes me feel really happy! You get right to the good bit of cycling without those first few tough rotations, and sometimes wobbles, that you might normally experience with a child on the back.
And I feel much safer on the roads riding the Tern GSD. There's something about the smooth, calm speed that makes you feel very secure and stable. Cars are definitely treating me differently, waiting patiently behind me, giving me more space, and letting me past as if I were a car. This confident position means I am using it more for challenging trips across town – Gym Club, Grandma's house – where I might have otherwise opted for the car.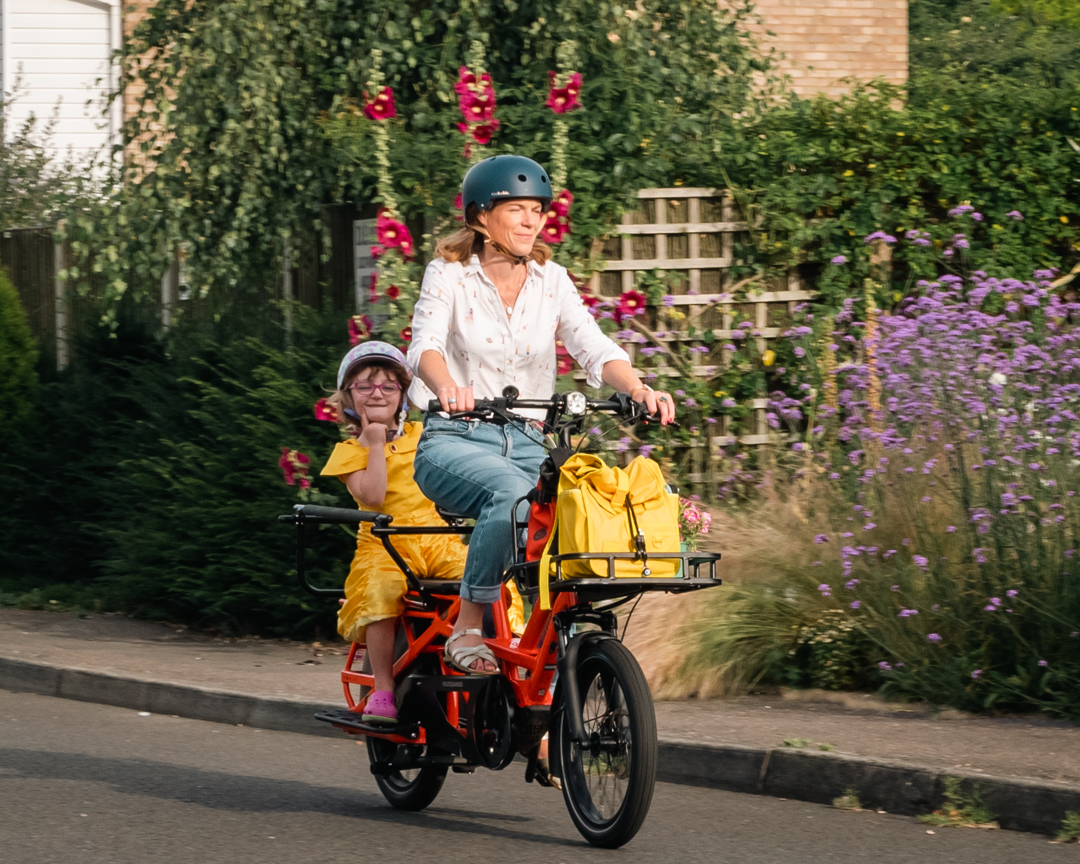 The wheels are small at 20 inches, but the tyres are chunky, and the Tern GSD has brilliant suspension, so you don't have to swerve to avoid bumps and cracks so much. The riding position is also very comfortable. The bike has a low centre of gravity, so you stay very stable when you have to slow down or stop in traffic. When I went back to my regular city bike, it felt like a racer, the riding position being much more lent forward.
How is it on hills? This is where the Tern GSD with its electric power really comes into its own. I have a short but very steep hill on my school run. I can't get up it on my regular bike with my daughter on the back and have to cycle a longer route. With the Tern GSD, it's like magic. I start in 'Sport' mode and then go up to 'Turbo' just before the sharp incline, and up we go. I stay seated and don't even break a sweat. I feel like a cartoon superhero, capable of impossible things. It feels blooming great!
How is it at transporting kids?
This was my big prerequisite, and it has delivered in spades. The Tern GSD is what's called a compact longtail e-cargo bike. It has an elongated frame that has extra space on the back that can carry cargo or kids. The maximum weight the bike can take is 200kg. It has different attachments depending on the ages of your kids and how many you have. You can get smaller kids (nine months to five years) on a Thule Yepp Maxi Seat and older kids (five-plus) on a Clubhouse and then even older kids and adults with a Captains Chair. See Tern's guide on the different options for different ages on the Tern GSD.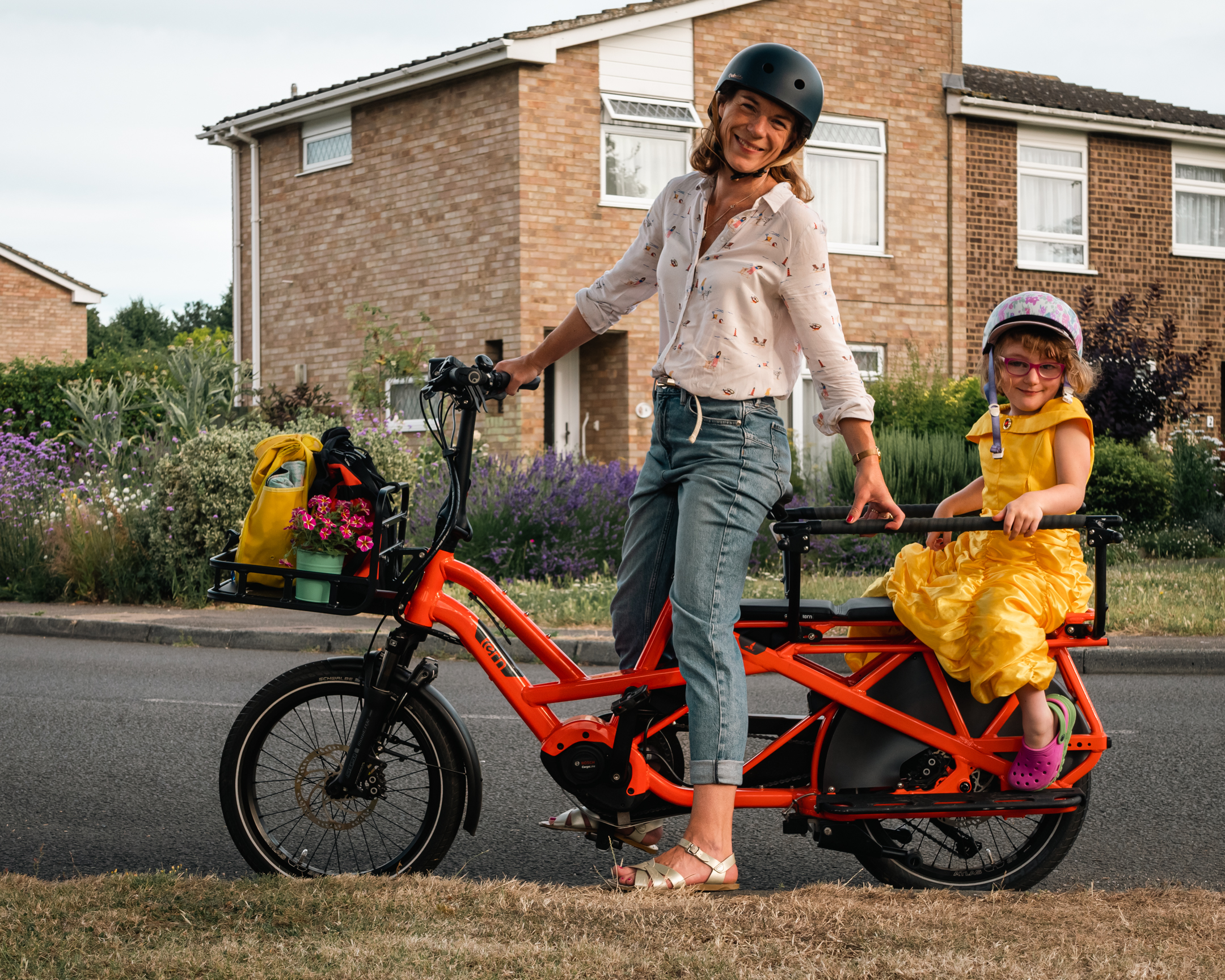 We had ours fitted with the Clubhouse, sidekick wide decks and seating pads. My youngest daughter, Mathilda, loved climbing in herself rather than being lifted on, and so did my back! But I would say at four, nearly five, she was right on the cusp between a Yepp seat and the Clubhouse and I found myself twisting around to check if she was holding on. Tern's UK distributors, Moore Large, reccommend a Iki Urban seat which looks just the ticket for this interim stage. We have ordered one.
But Mathilda really loves going on the Tern Bike and it has revolutionized the school run for me. I used to do a mixture of cycling, driving and walking throughout the week but now it's a no brainer – it's the Tern bike every time. Because it's quicker, I can get up that killer hill, and Mathilda will play ball and is always happy to get in. Although she did once complain there wasn't a designated holder for her Barbies. Tern, if you are listening!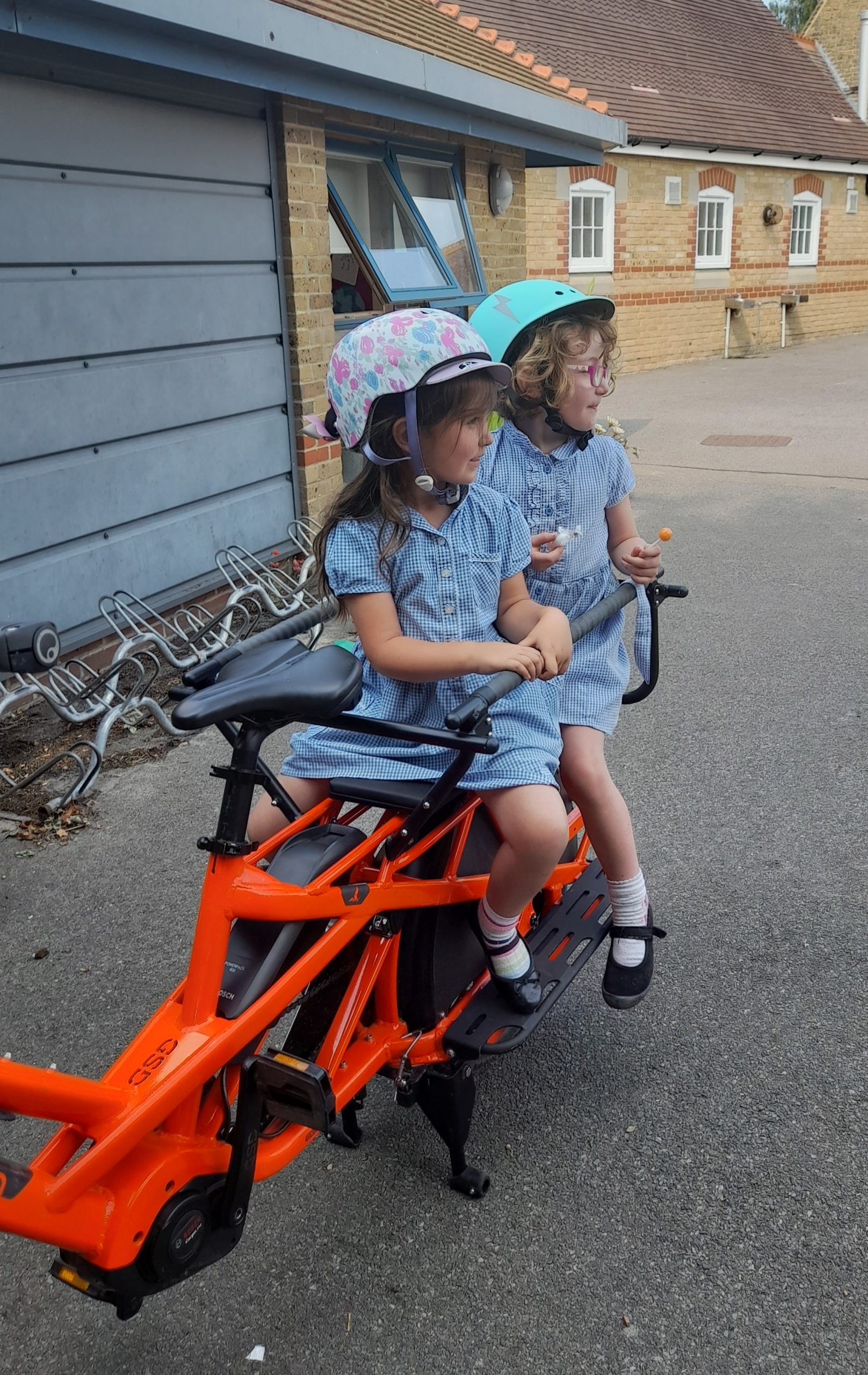 Another big plus-point of the Tern GSD is the Atlas Lock Stand. You roll the bike back and kick the stand down and it stays very secure, then press a lever on the handlebar and push the bike forward to release. This is a godsend when parking up at school, as it allows you to secure the bike and get the kids off quickly and easily. We also went for the Tern Transporter Rack, which is ideal for slinging in school bags and other paraphernalia your children acquire throughout the day.
I was curious to see if I could get my 13-year-old on at the same time as my four-year-old. It's a yes. It feels fine when I am riding along but I did find this extra weight difficult when starting off and stopping. And looking at Tern's website, it suggests most riders can comfortably carry 80% of their weight. Both my kids together are more than that. So how you carry two kids who's total weight is more than you without a car is perhaps still a work in progress…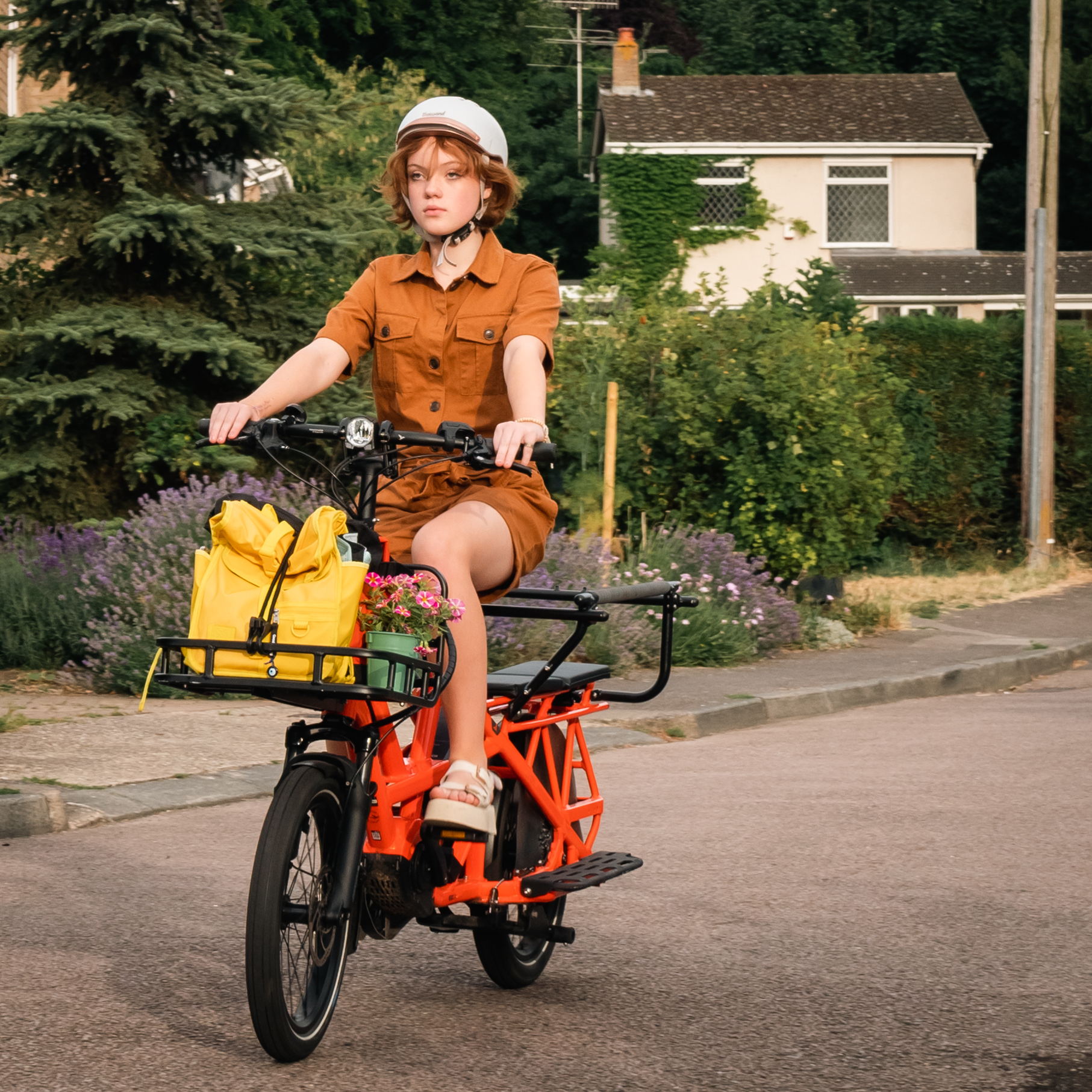 But what really surprised me about my teenager, Florence, was that she preferred to ride it herself. Florence is not a confident cyclist, constantly telling me, 'Cycling is your thing, Mum'. She is too old to cycle on the pavement but, like many girls and young women, is scared of cycling on road in traffic. But it was amazing to see how the electric bike helped her balance and her confidence, highlighting how Tern bikes can really help more vulnerable cyclists.
And as much as I love my kids, I also really like cycling it on my own. I can zoom off after the school drop. I love the speed and feeling of getting out on it by myself.
How easy is it to store? The clever thing about these bikes is that they carry a lot but they are not massive. I keep mine in our garage. We've never put a car in there, and it has plenty of junk in it, but there's space for the Tern GSD and I can lock the garage so it's safe. There's also a mains socket, so I can charge it whilst its parked. It's a good system, and it's easy to get the bike out in the morning. They can also be stored vertically, and the handlebars fold down very easily for getting it in the car.
How does it charge? I was worried there would be more hassle involved with an electric bike, but so far that has not been the case. It's as easy as charging a phone. (It may even be easier because no other family member steals my charger.) Simply plug the supplied charger into the mains and the other end into the battery. You don't even need to take the battery off the bike. All Tern bikes have Bosch motors which are the best in the business. The batteries tuck into the frame nicely and have a 50-mile range, I have only had to charge it twice in two weeks. The Tern GSD can also accommodate two batteries for extra distance and peace of mind.
What about locking it up? I have to admit, to start with, I was worried about locking it and leaving it. It's an expensive bike. But then I realised, if I am going to REALLY use this bike, I had to get over that. I have an Abus Bordo lock which is a gold standard. I secure the frame with that, and then apply the Abus front-wheel lock. Fully Charged also offer insurance when you buy from them so this can give you an extra layer of peace of mind.
Can both me and my partner ride it? Yes. A key benefit of this bike is that you can very easily adjust the saddle and the handlebar stem for riders of different heights. It takes seconds. That means a couple can share it and it can be the family e-bike. This point is particularly important when trying to go 'car-lite' as a family. My husband, who is not a regular cyclist, and will quite often jump in the car, is another convert. He couldn't believe he was doing 15MPH with no effort.
How much is it? At £5,100 but payments can be spread into monthly installments by using Klarna or the Green commute initiative.
In Conclusion when it comes to both ferrying my four-year-old around and getting myself about town, the Tern GSD has become my go-to vehicle. I love riding it. I would highly recommend it as a car replacement for local journeys (with or without hills) with younger kids. And writing this in the week it hit 40C in the UK, it feels like the right thing to do. It feels like the future. One lady remarked as I arrived at work on the Tern GSD 'You look like you're ready to take on the world'. With the feeling of elation I get from riding it, while knowing I can get more stuff done and reduce my carbon footprint, I kind of feel like I am.