On Monday, over 150 women took to the streets of London on their bikes to kick off the start of Cycling UK's Women's Festival of Cycling. 
Cycling UK have come up with a really clever idea of how we can all come together to make a difference and get more women on bikes…
They are asking all us cycling ladies (and men) to take a female friend or family member who doesn't cycle out for a bike ride throughout the month of July – so they can experience the joys of riding a bike! 
You can make a pledge here, so get your thinking caps on… Who can you take? 
I really like this grassroots approach and have been having a think about who I can take…
I have pledged to take my sister, Nat, pictured below, hanging out with my daughter on the beach. Nat is recovering from a knee operation. She has cycled in the past but isn't cycling at the moment and it would be really good, gentle exercise for her knee. I think she has an old one at the back of the garage, so I'll do some investigating and help her get it roadworthy.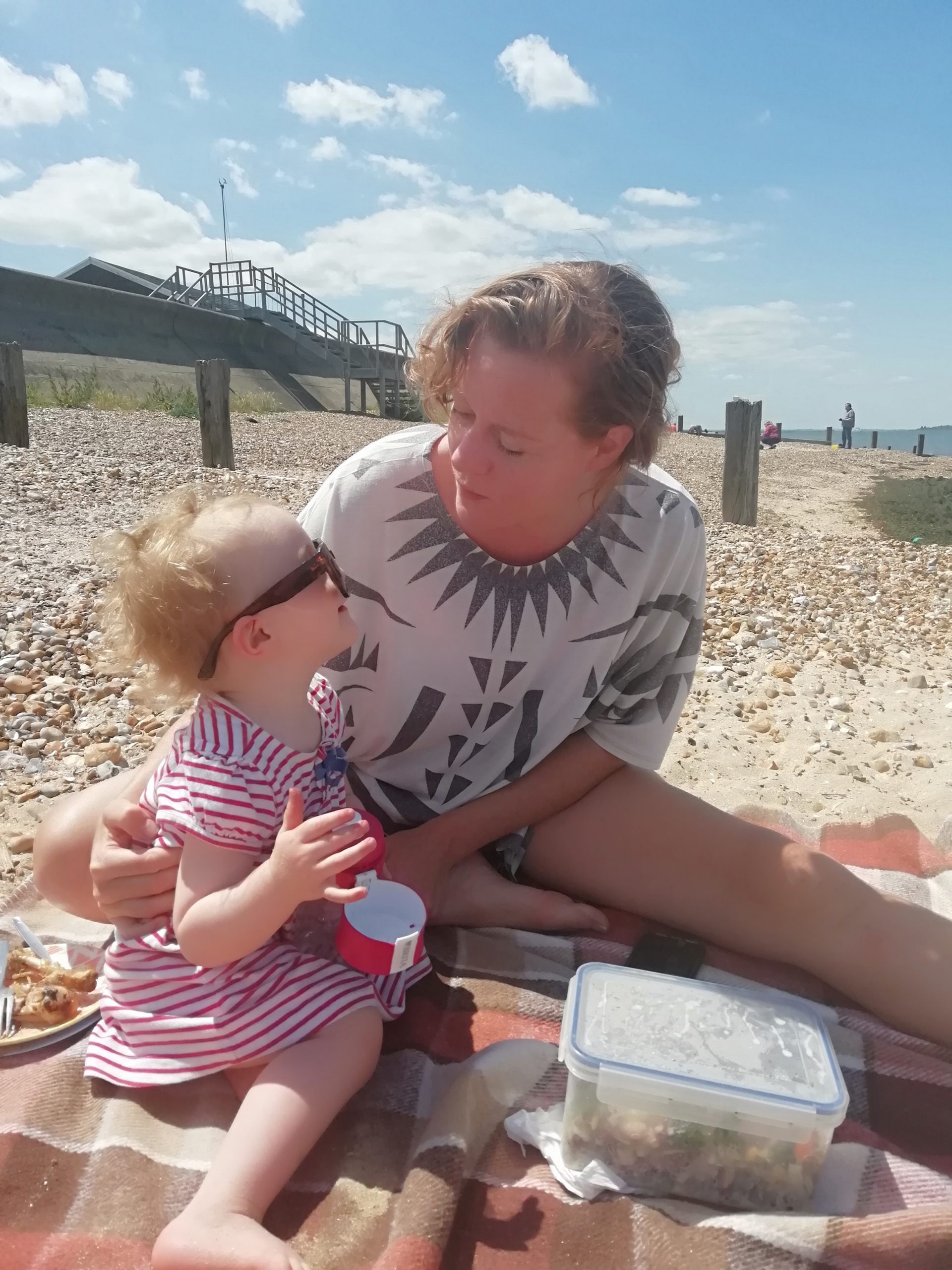 Many women who don't cycle have certain barriers preventing them from taking it up and Cycling UK's recent research shows that worries about the roads and safety still remain the biggest turn offs. 
Results from Cycling UK's  survey: Non-cycling women were asked  which of the following would encourage them to take up cycling.
| | |
| --- | --- |
| Better infrastructure, segregated lanes | 27% |
| If someone helped me build up my confidence  | 12% |
| If drivers were more considerate | 21% |
So how can we help ladies overcome these barriers? While taking them on a bike ride is a fantastic start, combining this with some advice and support is super- important to help them build cycling into their everyday lives. 
Whether it's helping them get their bike out of the garage and fixing that puncture or helping them overcome safety fears, a little bit of time and advice can go a long way. Here are a few tips:
Safety fears
Encourage them to take a lesson – I had a lesson when I first started cycling in London as an adult and it did so much for my skills and confidence. Cycle Confident do adult classes
Help them find a route that's off-road or avoids busy roads – We still have a long way to go at improving infrastructure for cyclists but if you plan out your route you can often find ways to do some of your journey off-road, through parks or on smaller, quieter roads. 
Emphasize the 'get off and push' message – This helped me so much and still does. If I ever feel unsafe cycling on he road, I simply get off and push on the pavement.  
So don't forget to take that pledge and let's really make a difference this July. 
I'll let you know how I get on with my sister…