This is it, today is the day: International Women's Day.
As we mentioned on Monday, a fair amount of the products in our collection are coming from businesses created by women. So this week we will present some of them each day so you can discover their stories.
We met mum-to-be Jacqui in our office in Shoreditch in 2012 (her gorgeous son Otto is now modelling her kids 'range, how time flies). She had started working on a project designing bags for cyclists and wanted to hear our opinion on them. Between chatting about her pregnancy and the future of an entrepreneur working mum, we gave her some advice on the practical needs of some her bags and committed to participate in her crowdfunding campaign.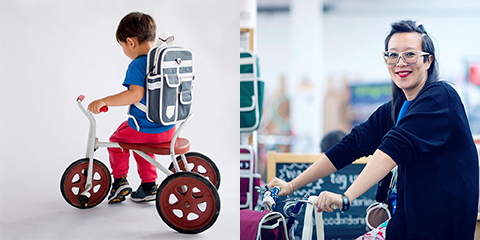 She says: Goodordering's cycling bag collection bridges the gap between performance and fashion. These highly versatile, practical, and stylish accessories are perfect for a life on the go. Bag features include adaptable styles with integrated fastenings, meaning a shopper can be turned into a rucksack, or a satchel transformed into a handlebar bag.  
Inspired by Japanese school bags and airline bags from the 70s and 80s, the range is a contemporary take on matching luggage trends of that era."
Sawako's helmets were pretty much part of the Cyclechic range from day one. It feels like a sister business as we have collaborated together for so long. Even if she is based in New York now, we still catch up on Skype to chat about fashion, trends and ideas for her helmets. I'm looking forwards to meeting her when I visit NYC soon, so she can buy me a beer to say thanks for the crocodile print idea 😉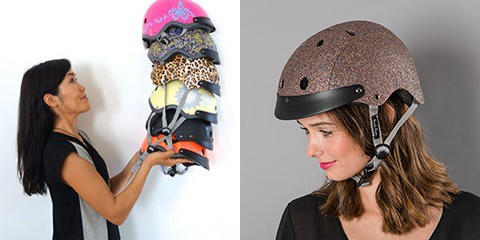 She says: "Growing up in Tokyo, I discovered fashion, style and architecture. The architectural education gave me a great insight to material, colour, form and texture. Whilst studying a Masters degree in Architecture in Oxford, I enjoyed cycling around the beautiful university town on an elegant vintage upright bicycle borrowed from my 84-year old landlady. When I moved to London to work as an architect, cycling became my favourite mode of transport. It was reliable, ecological and economical.  Having struggled to find a beautiful helmet to keep me safe on my daily commute and weekend adventures, I started to make prototypes of my own designs in my back garden. In 2006, I launched my website to advertise my first stock.  Overwhelmed by the positive feedback for my products, I took the plunge into the world of entrepreneurship and cycling fashion."
We saw Sara's reflective clothes in a magazine and immediately wanted them in our range. We met over a coffee, realised we had loads in common and the rest is history!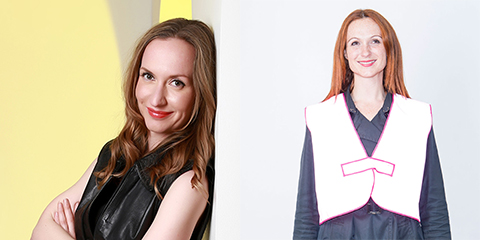 She says: "There are so many cyclists, bikers, and joggers at night in cities who need to be safer. Most of them have their own fashion style and don't want to wear the yellow hi-vis wear. My designs will encourage them to look good and be safer. My collection allows people to wear what they would normally underneath, as they can layer Henrichs on top of their shirt, suit, dress or coat throughout the year."
More to follow up tomorrow!